Starting my Day at Palawan Beach
Despite earlier assurances of gentle waves, it was pretty clear there was not going to be such that day. My friend and I had swum across from the suspension bridge to the Sentosa Island and were catching up on gossip as we sat in the pleasant water when suddenly we were being sucked deep into the sea. Thanks to our swimming skills however we managed to scramble out.
And yet, misadventures aside, Palawan beach – a manmade beach in Sentosa Island, Singapore – remains one of the fun-filled places I have ever been to. You have to forgive its capricious tantrums sometimes – the strong underwater currents and deep drops that can suck unsuspecting swimmers. But even so, there are secure lagoons and areas for kids to swim. Additionally, there were lifeguards present who patrolled the beach keeping people out of unsafe zones.
I had never experienced so many dramatically different scenes in such a short period of time. One minute there was the delightful amphitheater; across the bridge later there was the pleasant view of the turquoise lagoons and an iconic array of palm trees. But that was not the only fun this beach had to offer as we were about to find out.
We accessed the beach freely via the monorail Beach Stop; no entry fee is required to visit the beach. We grabbed a bite at FOC Sentosa, a beach club that is an embodiment of genteel Argentinian estancia life. It had a Mediterranean vibe with the Iberian pork paella, scrambled eggs with chorizo served with potato chips under the cozy cabanas.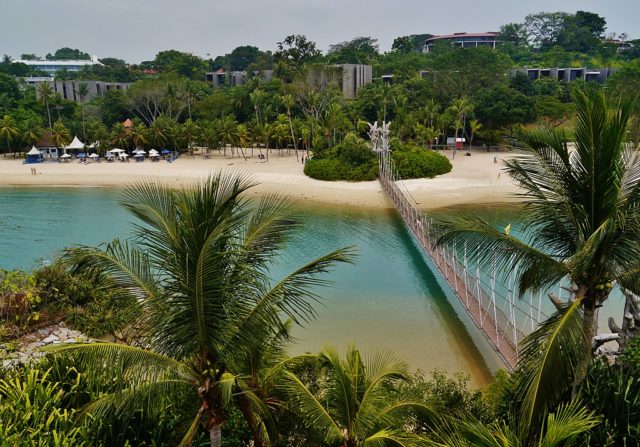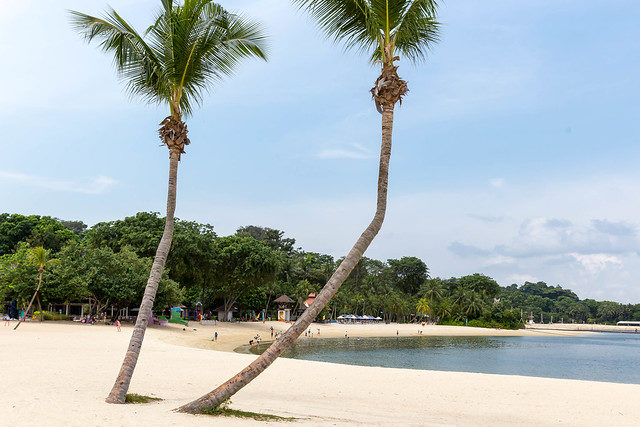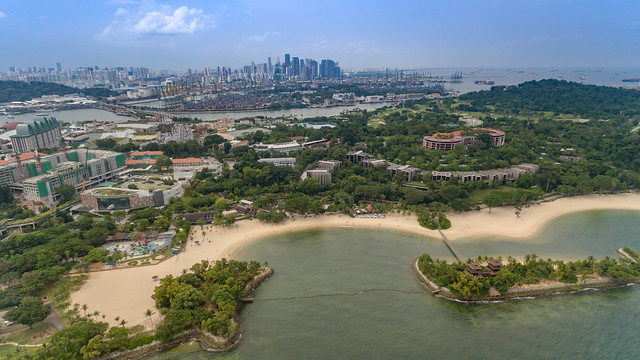 Favorite Activities at Palawan Beach
From the club, we proceeded to the Amphitheatre for exciting animal encounters. Admission into the theatre was free with plenty of trainers who take visitors through each animal from the mischievous parrot to the skillful nimble monkey. The theatre offers four daily animal encounter programs, and we caught the Birds Encounter program. It was nice to see the birds display agility as they got into awesome activities they had been trained to do. Feeding the birds was an exciting activity through which we bonded with nature.
Next, we proceeded to the suspension bridge. It was a little bit crowded as this was a weekend. Palawan gets a huge crowd mostly because it's a family friendly beach with tons of activities for both kids and adults. The suspension bridge linked us to Asia's southernmost point. The view up here was fantastic with plenty of instagrammable moments. There were plenty of activities here mostly partying crowds – a lot of funfest activities are held here from birthdays to crazy cultural activities. Overall, it is a perfect place for a date.
The floating bridge kept bouncing as we walked on, making it more thrilling. It had three viewing towers to give us an exhilarating view of the South China Sea, the iconic array of boats and the Island palm trees. We landed on the lovely seaside lined with beautiful coconut trees – the southernmost point of Asia and it was from here that we swam across the pleasantly warm and clean water to the main beach.
It was a beautiful place to relax, with no loud music or crazy beachgoers. The sand here is imported from Australia; it feels soft on the skin. The palm trees offered plenty of canopies to relax on the artificial grass. We sat in the shallow end of the beach as we watched families soak in the warm Singaporean culture, photographers were shooting photos, lovers were staring in each other's eyes as kids played with the white sand.
After our misadventure with the undertow current, we proceeded to the beach high adrenaline activities. From Pokemon search games to volleyball, there are plenty of sports for those who are into adrenaline stimulating activities. The soft Australian imported sand felt nice under my feet. The luge ride was exhilarating as we shot atop a hill and down in a 4-wheel vehicle.
After exhilarating fun, it was time to make use of the beach amenities. The toilets, showers, and public restrooms were clean. Towels were available for purchase too.
All in all, from the lush palm trees that offered plenty of shade to relax under the tropical sun to the exhilarating hanging bridge, Palawan beach offered plenty of fun activities that highlighted my vacation.