Universal Studios in Singapore packs a whole lot of fun into a theme park located on Sentosa Island. Universal Studios Singapore offers themed zones and fantastic rides around fan-favorite movies such as Battlestar Galactica, Jurassic Park, Sesame Street and more. These film inspired rides are the beginning of the wonders of Southeast Asia's arguably best theme park. This may be a controversial statement, but we want to back it up. Here are some of the exciting things to do in the park.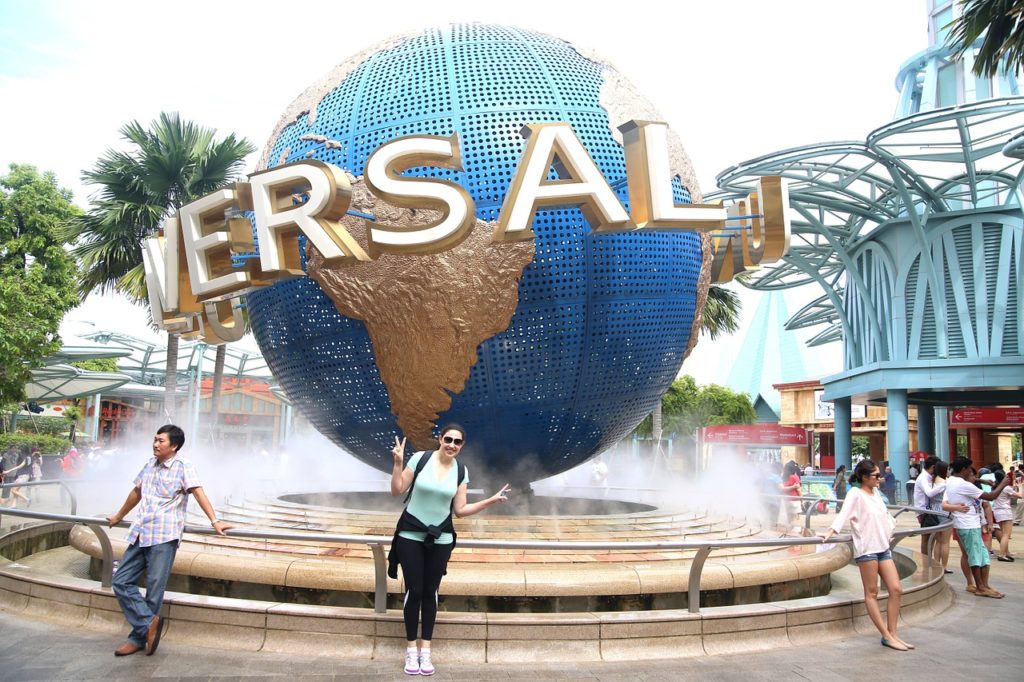 1. Take a stroll down Hollywood Boulevard and enjoy a date with "Marilyn Monroe."
Forget you're in Asia and get the feel of the 1970s Hollywood through the Broadway-style theatre, the palm trees, and the Walk of Fame. Meet and greet your favorite Hollywood characters. You will have a chance to hang out and take photos with the minions, Optimus Prime, and Bumblebee. If you are more of a classic Hollywood fan, you will be greeted by Marilyn Monroe and John Wayne in the Walk of Fame section. You get to snap photos of yourself with your favorite movie stars. Featured here include statues of Marilyn Monroe, Betty Boop, Charlie Chaplin, minions and more!
We guarantee that you will run into someone you know from TV or movies, so make sure you bring your cameras or selfie stick.
There entertainment and shows such as the Sesame Street Show, Turntables and more. Snack on favorite Asian meals such as Nasi Padang as you watch favorite Hollywood flicks come to life on the Silver Screen.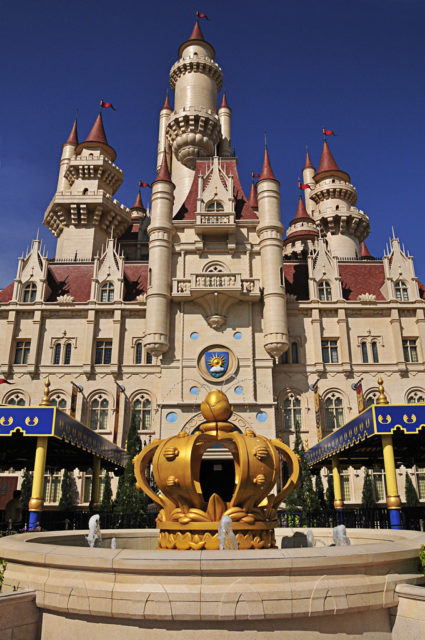 2. Visit Sci-Fi City, Ancient Egypt, and The Lost World
Sci-Fi city features scenes from favorite science fiction films and tv shows. It's a representation of a future metropolis. Don't worry. It's not a dystopian society where robots are in power or people are pitted against each other. There are several permanent sci-fi fixtures. One of the most eye dizzying is the Battlestar Galactica: Human vs. Cyclone. This popular rollercoaster ride is the world's taller dueling rollercoaster. That means there are two separate tracks where two roller coasters can simultaneously operate, and well duel for speed. As two rollercoasters are weaving in and out with each other, you will feel like they collide at any turn. If you have not been on a dueling rollercoaster, this is the perfect ride for an adrenaline rush.
The next place is to visit Ancient Egypt City and feel the aura of Egyptian architecture and design. Artifacts recovered from explorations of ancient Egypt are housed here. These include the pharaoh's tomb, obelisk among more. Being surrounded by Egyptian artifacts, you will feel like you are living in the Mummy films.
Next stop at the lost world city that features the Jurassic zone and water world and gets to enjoy scenes and rides from favorite horror and Halloween movies.  If you are looking for something more relaxing, you can also watch a musical parade of fan favorite movie characters as they travel from here to New York zone on their floats.
Whether you are a big fan of specific movies, we guarantee that you will have a blast! If you are a fan, this would be a great place to load up on memorabilia or souvenirs.
3. Go on Fantastic Rides
There're lots of fun rides for thrill seekers. Whether an adult or kid, there's something for everyone customized around Universal Studios Blockbuster films. Here's a list of must-do rides: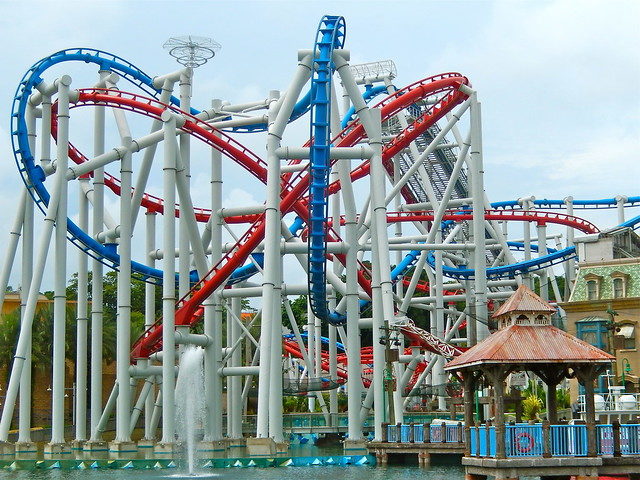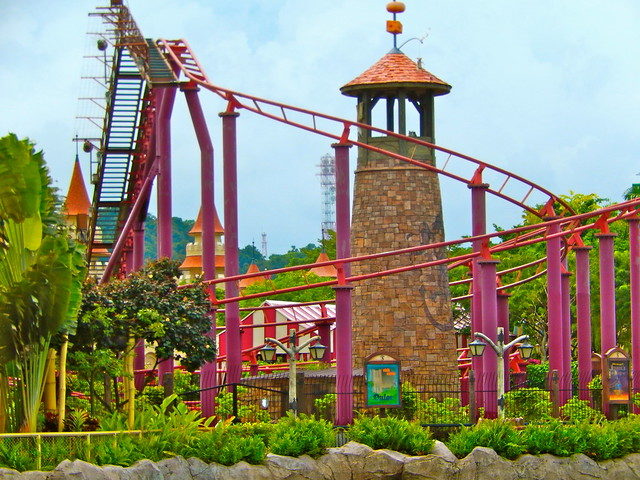 Battlestar Galactica – Humans vs. Cyclones ride: This is the only Battlestar Galactica themed ride in the world! This also happens to be the world's tallest dueling rollercoaster, which we interpret as the greatest dueling ride. When you are riding, you will feel as if they are going to collide, these inversions and near misses add to the thrill. You can pick either the Cyclone or the Human ride. The cyclone ride features intense maneuvers such as inversions, up and down movements and underground dips through an artificial mist. The human ride lacks the twist and virtual collisions.
Transformers 3D Ride: why settle for simply watching Transformers films when you can walk on the set and experience the action first hand? Transformers attraction involves sitting on carts, putting on your glasses, and zooming down platforms while fighting robots.
Revenge of the Mummy: explore haunted ancient Egyptian tombs. Your mission is to find the Booking of the Living. You will have a wide array of tools at your disposal. Use your jeep to tear through the city and use your wits to solve the mystery.
Jurassic Park Adventures: rafts through the Jurassic Park and experience the thrill of waterfall drop and other splashing adventures like being chased down by these prehistoric dinosaurs that roamed the earth way before we did.
4. Eat Bellyful of Delicious Food
There're restaurants and food stands scattered around Universal Studios Singapore. They provide visitors an opportunity to enjoy a variety of cuisines at all price ranges. If you are expecting boring, old theme park food, this is not the place. Here are some of our favorite items and recommendations to make sure you are fully fueled for your adventures.  You can start with the ice-cream snack or frozen beverages from the F&B outlet at Sci-Fi city. Once you get a dosage of rides and attractions, get some real food at the Japanese-inspired yakitori, Gloria's snack shack, in Madagascar park. If you are feeling something more brothy, we recommend the Thai classic, Tom Yum Soup in a café themed around the Madagascar movie franchise.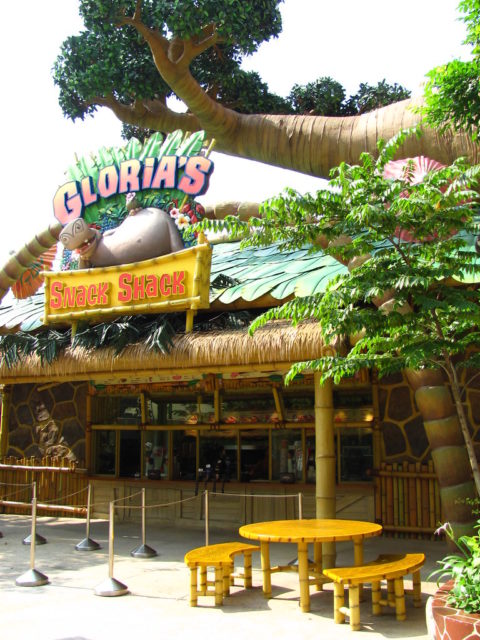 If you would rather not waste time eating because you are having too much fun, there are quick grab and go food options as well. Here are some of our favorites.
Hainese Chicken or Turkey leg at the Discovery food court

Nachos plus cheese and corndog at fossil fuels restaurant for

S$10

Pizza at the Loui's NY Pizza Parlour

Satay combo at Marty's Casa Del Wild restaurant

Wanton Noddle soup, Laksa and Ayam Penyet at Gloria's Snack
5. Get Souvenirs to Remember Universal Studios Singapore
A fun way to remember your adventures at Universal Studios Singapore is to get souvenirs that will remind you of the good times every time you look at it. While there are gift shops scattered throughout the premise, you may want to snatch up items related to each attraction close to the ride itself. Here are some of the most popular items.
Madagascar-themed T-shirts and hats.

Models of Egyptian treasures.

Minions monster caps, tumblers, popcorn bucket and plushies

Little monster themed tote bag to use for casual daily routines

Sci-Fi Related merchandise at the Transformers Supply Vault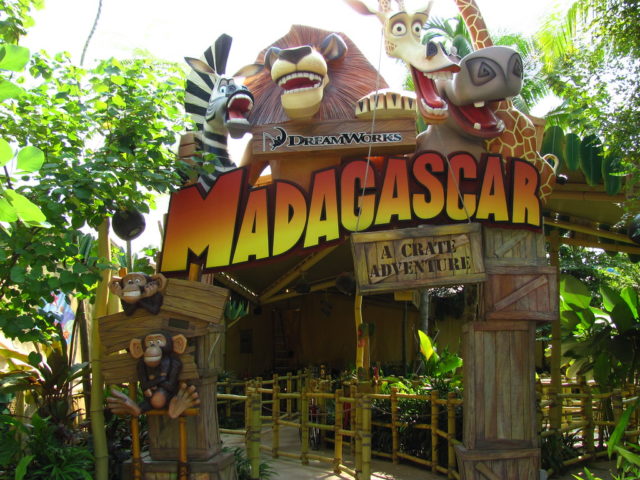 Photos with meet and greet characters such as the minions and sesame street crew serve as excellent souvenirs too. As you see the scenes from your favorite movie come to life, take pictures of them and get the sesame street themed photo frame to hold the picture.