Being near the equator and an island, Singapore can be hot and humid. To escape the heat, you can visit the beaches in Singapore. To house an increasing population of expats and locals, the government has been reclaiming land by buying soil and sands from other Asian countries. Started in the 1970s, Singapore has bought sands from poorer neighboring countries, Vietnam, Thailand, and Indonesia, to make artificial beaches. The thirst for pristine sand has led to the disappearance of 24 Indonesian islands because too much of their sands exported to Singapore. While the notion of islands disappearing for economic reasons is tragic, this means you will get to enjoy some of the best sands when you step a foot on Singapore's man-made beaches.
In this article, we are going to look at top beaches you must visit during your stay in Singapore. It has all the classic beach activities and more.
Top Singapore Beaches to Visit
Singapore has a variety of beaches you can visit and have fun. However, here are our staff's top picks. These beaches will give you an experience you will never forget.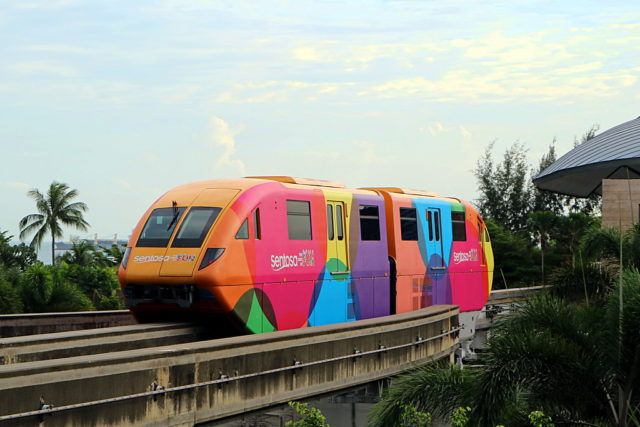 Sentosa Island
In addition to being home to Universal Studios, Sentosa Island provides the most beautiful beaches to visit in Singapore. The island offers a wide range of activities for tourists and locals to escape the busy city life in Singapore.
Palawan Beach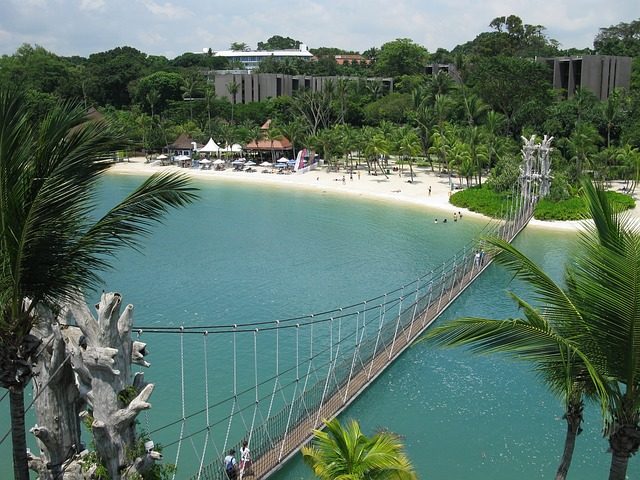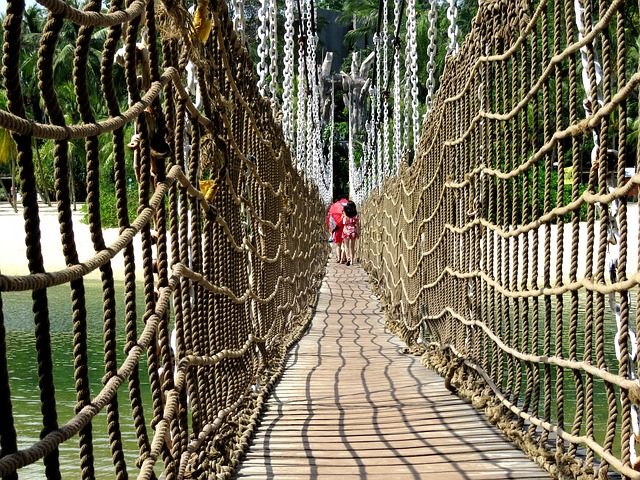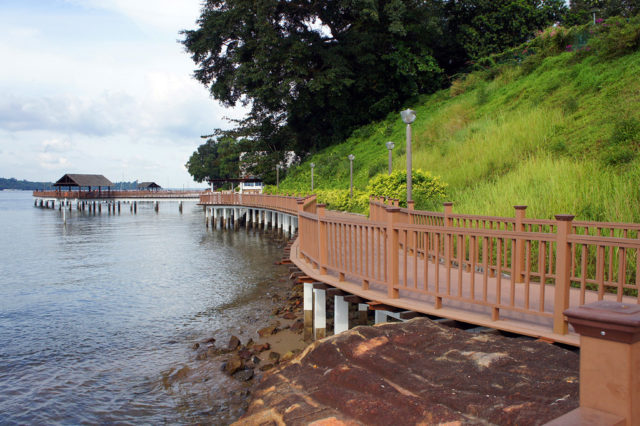 At the center of Sentosa lies the Palawan beach. It features palm trees dancing to the rhythm of the cool beach breeze, pure white sand, blue-greenish water, and a wide array of lively beach bars.
Palawan is better known worldwide for a pirate theme park of water, Lost World Port. The port has a pirate world setting with a rope bridge, wooden beam towers, a pirate vessel, and several boxes of treasure. It's a great photo spot to make your Instagram friends jealous.
If you get tried soaking in the sun, you can take a quick stroll to nearby bars and restaurants. The beachfront is filled with Cabana-style bars, restaurants, and shops. There is also a play area for families. Palawan is the perfect beach for either swimming or lounging during your holidays to get away from your normal life.
Tanjong Beach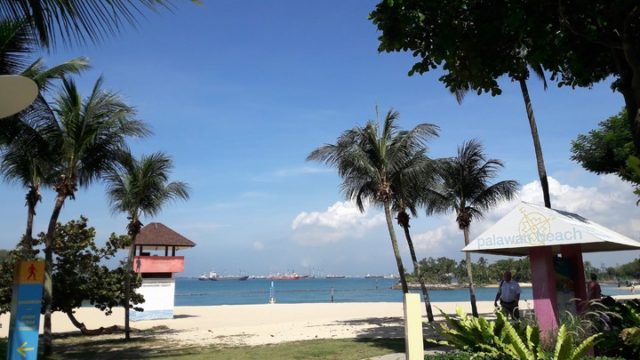 Tanjong Beach is another man-made beach known for its lively atmosphere. The beach is located at the southern coast of Sentosa. The shape of the beach line itself is breathtaking as it makes a perfect crescent moon. Activities you must try at the Tanjong beach includes soaking in the sun in the white sands and swimming in perfect temperatures waters. Given its beautiful, the beach is a popular spot for weddings and wedding proposals. Don't be surprised if you happen to catch a proposal! You can also organize a birthday party here. If you love beach parties, this is the right beach for you as the beach puts on a party twice a month.
The facilities on this beach include swimming pools at the side of the beach, bike rentals, cabanas, shelters, deck chairs, and lounges.
Main Island
Changi Beach
Located on the eastern tip of the island, Changi Beach is a great spot to visit if you want to watch airplanes taking off and landing. Unlike other beaches, the sand strip is narrower. However, what it lacks in the white sands, it makes up in other amenities. The beach has a dedicated path for cyclist and runners. If you want to exercise while looking at the sunrise, this would be the best place to feel motivated. If you didn't get a chance to visit Sentosa, Changi airport is great to get your beach fix.
Punggol Point Park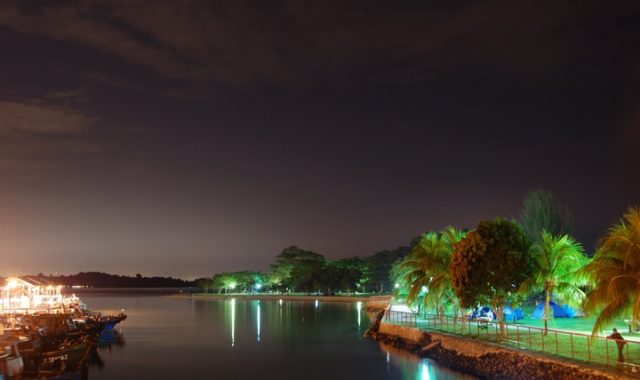 If you want to skip the lines and avoid tourists, Punggol Beach is the perfect place to visit and relax. Located on the northern side of Singapore, the beach is part of the Punggol Point Park. There is a list of water and land activities ranging from running trails, ponds, and large picnic areas. The beach is accessible via Singapore's MRT public transit system.
Things to Do at Singapore Beaches
Here are some of our favorite beach activities you can do at beaches in Singapore.
Swimming
Swimming is one of the most fun activities you can on Singapore beaches. While you can swim freely in Singapore, please note some beaches do not have lifeguards. If you do not know how to swim, you should either have floatation devices or take swim lessons beforehand.
Building Sand Castles
You can sit on the beach and build elaborate sand castles. The pristine white sand is perfect for building castles. All you need are sand, water, and your imagination to start building. It will surely take you back to your childhood.
Collecting Sea Shells
Get a container and start collecting seashells. The activity is fun, and you will have a chance of taking some shells home for beauty and remembrance that you once visited top Singapore beaches.
Watching the Sea
You have a chance of sitting yourself comfortably on the deck chairs and just cast your eyes on the blue water. If you have a good book to accompany, it will be a fantastic way to spend the day.