Where is Singapore Located?
Considered as a modern beacon of Southeast Asia, this lion city is home to almost 6 million people. While you may have heard about the country, your geography may fail you in locating Singapore on a map. That's ok. we are here to teach you where Singapore is located.
Singapore, officially known as the Republic of Singapore, is located on the southern tip of the Malay Peninsula. The country is sandwiched between Malaysia and Indonesia. Other neighboring countries include Thailand, Cambodia, the Philippines, Brunei, and Vietnam. Thanks to its booming economy, Singapore offers as a great hub to travel to other Southeast Asian countries. Changi airport traffics over 100 airlines flying from 400 cities. If you are flying to Southeast Asia from Europe, America, or the Middle East, chances are you will layover in Singapore first. Each week, the airport handles approximately 1.3 million passengers or around 7400 flights. This makes Singapore as a great hub for travelers. Singapore is home to Scoot Airline, a budget subsidiary of Singapore Airline. Scoot offers wallet-friendly deals for travelers.
Singapore is an island country that lies 85 miles (or 137 kilometers) north of the equator. While being near the equator means it's hot all year round, its unique geography allows Singapore to grow exotic fruits and plants
Is Singapore a Country?
Yes! Singapore is a city-state. A city-state a sovereign state that only has one single city in its territory. While there have been many city-states throughout history like Rome and Athens, there are only three modern city states. Singapore is one of the three along with Monaco and the Vatican. City-states are sometimes referred to as micro-states given its characteristic of having a small territory. However, don't let the size fool you. Since its establishment after World War II in 1965, the country has gone through accelerated development and ranks high in world development metrics.
Here are some metrics to prove that Singapore stands tall among the world's best countries:
1st worldwide for the ease of doing business by the World Bank for 2012, consecutively for 7 years

1st in world's fastest average peak Internet speed

1st out of 140 countries in Cost of Living Survey (2014)

2nd out of 152 countries (top 1.3%) in Global Militarization Index

2nd out of 155 countries (top 1.3%) in Index of Economic Freedom (2013)

2nd out of 144 countries (top 1.4%) in the Global Information Technology Report (2014)

3rd most competitive country in the world

3rd out of 115 countries (top 2.6%) in safety (least crime)

4th out of 211 cities (top 1.9%) in Cost of Living Survey (2014)

6th out of 186 countries (top 3.2%) (2015) in GDP per capita

7th among 154 countries (top 4.5%) in the absence of corruption

9th out of 187 countries (top 4.8%) in Human Development Index (2014)
Is Singapore in China?
No. You may be thinking Singapore is similar to Hong Kong and Macao, Singapore is not part of China under the one state two systems. One state two systems allow independent governments to be formed in countries that ultimately belong to China. This is often confusion as you will notice many Singaporeans look and speak Chinese. It is true that three out of four Singaporeans are ethnically Chinese, but Singapore is a multi-culture, secular country. The country is home to Malays, Indians, and other ethnic groups. Religiously, you will notice people of different faiths mingling while respecting each person's beliefs.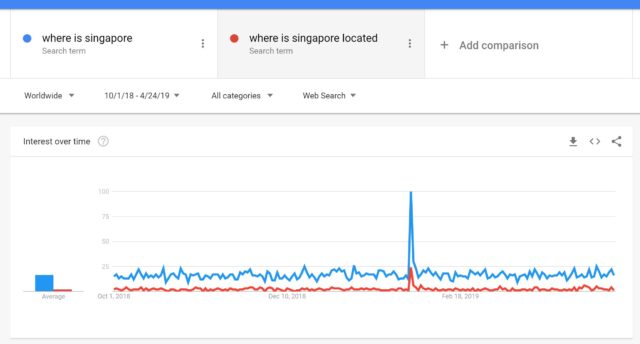 Largely thanks to a meeting between Donald Trump and Kim Jong Un, Singapore saw a surge in web searches. Below shows a significant increase in search for Singapore's location on the world map. As they say, any press is good press if it means more people in the world will know where Singapore is now!
What is There to Do in Singapore?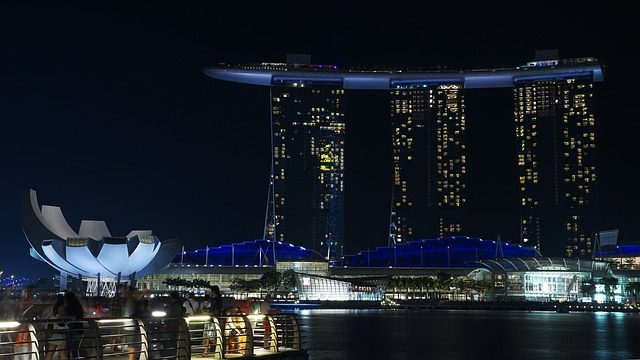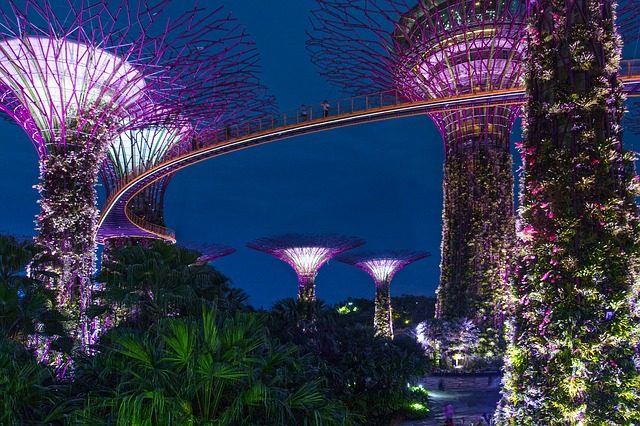 Singapore is home to three major ethnic groups – Chinese, Malay, and Indian. Given these groups have inhabited the island for decades, Singapore offers a wide array of affordable cuisines without having to travel to other countries. Our recommendation is to eat at a Hawker Centre as locals do. You will get a chance to experience more dishes you can possibly eat in a month. Pro tip –  you can safely refill your bottles with tap water. Singapore has one of the highest consumer safety regulations.
Other than eating at Hawker Centres, you can visit the beautiful beaches on Sentosa island. While you are there, you might want to visit Universal Studio!
If you are in the mood to shop for souvenirs, we recommend Chinatown for some unique gifts you may not see anywhere else. While you are there, be sure to have authentic Chinese cuisine. For dessert, we recommend the durian fruit. It may stink like a rotten onion, but we guarantee the taste is worth the suffering.