Deciding where to stay in any city can be tough especially if it's your first time visiting. One thing that could help you choose where to stay in Singapore is by looking in areas that fit your interests.
Are you in Singapore to have a taste of its varied cuisines? There are hotels near some of the best restaurants or hawker centres. Would you like to stay in a low-cost place so you'd have more funds for other expenses? Or would you rather stay in a luxury hotel for the comfort and security it provides?
There's something for every traveler in Singapore. Let's have a look at your choices.
Where to Stay if You're a Foodie
Enjoy some great gastronomic experiences as you explore the city.
ParkRoyal on Pickering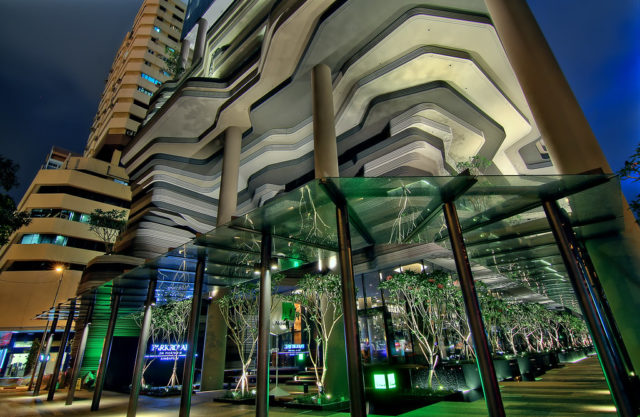 This is a great place to stay for couples or families that are traveling in groups. Time your stay on a weekend so you can make it in time for ParkRoyal's famous lunch buffet at its Lime restaurant. You'll have 4 hours to enjoy the best of Singaporean cuisine and have a seafood feast. There's also a wide selection of international dishes and cuisines from Singapore's Southeast Asian neighbors.
ParkRoyal is also just a 6-minute walk away from Chinatown, where some of the best Chinese delicacies can be had.
You'll also pass by some highly interesting sites along the way, such as:
   

Sri Mariamman Temple on Pagoda Street

   

Fuk Tak Chi Museum on Cross Street
Aside from its delectable buffet, ParkRoyal is also known for its unique architecture that features terraced gardens on almost every floor. This should satisfy the environmentalist in you.
Sentosa Cove
Sentosa Cove — a haven for the upper class located on the famous Sentosa Island. This is the best place to stay if you're looking for a hint of island life mixed in with modern conveniences.
Sentosa Cove was developed mostly as a residential area for Singapore's affluent residents. But there are also several hotels in the area, with prices that range from somewhere around USD $60 to $350.
The best part for foodies staying in Sentosa Cove is that there are lots of restaurants and cafes to choose from. Or you can just head on over to the Greenwood Fish Market at Quayside Isle, where all the best and freshest seafood can be had. If you're lucky, you may even take part in Greenwood's annual Oyster Festival. This year, Greenwood brought in at least 25 different kinds of oysters from around the world.
Where to Stay if You Like the Nightlife
Get close to Singapore's night scene and party on with young Singaporeans while enjoying the warm tropical breeze.
Clarke Quay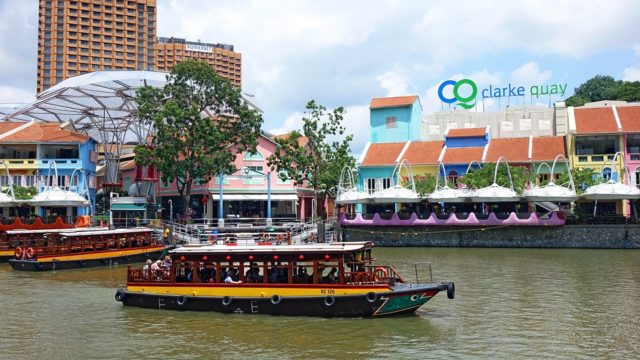 Bars and clubs aren't the only places to go to at night on Clarke Quay. You can also go on a night tour of the city aboard a charming double-decker bus. These nighttime tours are usually food tours as well, so you can sample the mouth-watering street food. Get a taste of local favorites like char kwey teow hot off the wok.
The expert guides will take you around the nighttime joints as well where you can get a taste of the famous Singapore Sling. This gin-based cocktail is an authentic Singaporean drink that was developed in the early 1900s. Its bright pink color is quite instagrammable too!
Clarke Quay is an extensive development along the banks of the Singapore River. There are hundreds of hotels to choose from, with prices ranging USD $90 to USD $350. If you're looking for a 5-star accommodation, check out the Raffles hotel along 1 Beach Road. They're the spot that came up with the Singapore Sling cocktail!
Where to Stay if You're on a Culture Trip
Singapore is a melting pot of various cultures thanks to the high quality of life that its residents enjoy. People from different parts of the globe have been flocking here through the years. As a result, its age-old traditions are slowly being molded to adapt the traditions of its new residents.
But the government has also made sure to preserve the parts of the city that honors its colorful past.
Chinatown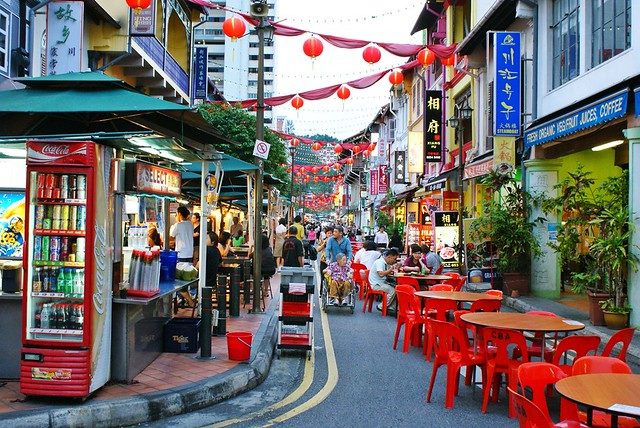 Singapore's Chinatown is as historic as any other Chinatown in any other country. Explore the old temples, heritage centres, historic hotels, traditional restaurants, and much more. Breathe in the delicious scent of stir-fried food cooked in piping hot woks. In most cases, you'll even be able to watch the entire food preparation process.
If you're feeling a little fancy, check in at Hotel 1929. This historic hotel used to be a chain of 5 shophouses that were built in, well, 1929. The building's original architecture was preserved and modernized. Every part of the hotel is a perfect spot for those instagrammable shots, especially its retro-modern facade.
Little India
This place offers a complete feast for your senses. The sights and sounds and smell are all so uniquely Indian — colorful, vibrant, intoxicating. Just like Chinatown, Little India is also a historic district of Singapore. But it's actually much older, dating back to the 7th century. Back then, Singapore was still known as Temasek.
There's so much history to learn here and so many temples to see, including:
   

Sri Veeramakaliamman Temple

   

Sri Srinivasa Perumal Temple

   

Sakya Muni Buddha Gaya Temple
There are several mosques, as well as an Indian Heritage Centre. And then there's the House of Tan Teng Niah, a colorful little house that belonged to one of the few affluent Chinese residents in a predominantly Indian community.
The Bottomline
There's really no shortage of interesting places to stay in Singapore. All you have to do is decide on what you want to prioritize on your visit. Also, note that the lower-priced hotels in each location are normally backpacker's hostels. One last tip we can provide is that the public transportation or rideshare services are so good and affordable that wherever you stay, other areas of Singapore will still be accessible.