One of the most impressive things about Singapore is the skyline. Day or night, you would really want to soak it up as much as possible. Until someone comes up with a blimp cafe, the rooftop bars are your best choice.
One thing about a great skyline is certain. It is a universally enjoyed atmosphere and elevates any occasion. It doesn't matter if you are up for an intimate dinner, business lunch, relaxed meeting with friends, or partying, it always contributes to the experience, and often creates one.
Whether you are on a business trip or vacation, we recommend you try and make time to visit at least one of the rooftop bars in Singapore.
There are numerous and each is different. If you want to enjoy
Intimate Atmosphere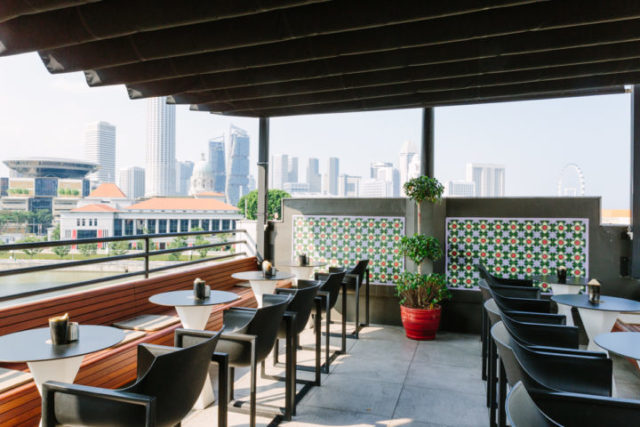 Braci. This is a Michelin-starred bar and restaurant. It is placed along Boat Quay, on top of a restored old building which contributes to the overall ambiance as much as the fact that it seats only 30 people. The cozy and intimate atmosphere is a great place to enjoy the view and taste some innovative food. Combining traditional Italian cuisine with Asian flair, each dish has a unique preparation style and another signature mark of this establishment are the finest cocktails.
Mr. Stork bar. Singapore has over 100 acres of rooftop gardens. In one of those gardens, you can find this bar-restaurant. A 360 view of the city can be enjoyed from comfortable chairs and sofas, and if you want privacy, you can enjoy a Singapore night with a glass of wine in one of the ten teepee huts. It is truly an oasis.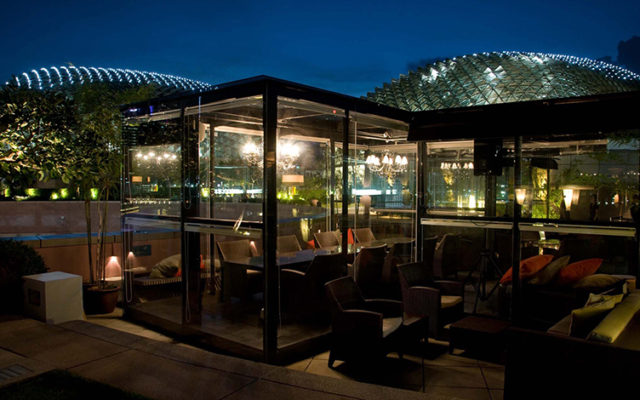 Orgo is an interesting sheltered bar which prepares creative mixtures. Every table and seating set has its own glass house, so you feel cozy, but not separated from the crowd. The drinks are interesting; you should try out Watermelon and Chilli Martini.
Laid Back Gatherings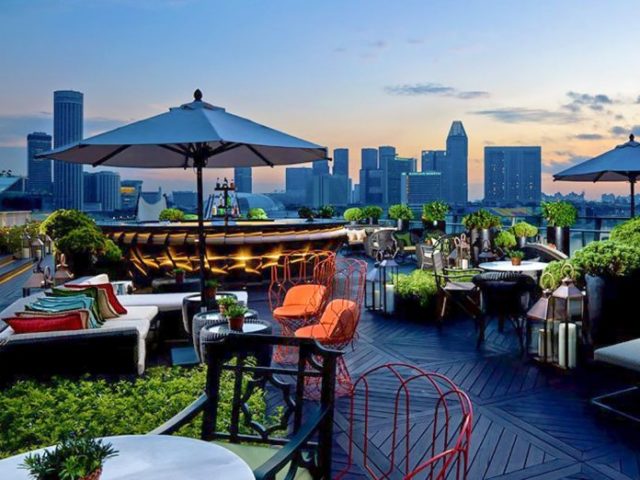 Lantern. Placed on the top of the Fullerton Bay Hotel, Lantern is a bar and restaurant that enables you to admire a view of the Marina Bay waterfront, while sitting back in a sofa seat or a comfy reclining chair. With a great cocktail in your hand, you can also enjoy a beautiful infinity pool.  Everything is set up just the right way for you to enjoy a relaxing evening.
Best View
Level 33. On the Marina Bay Financial Center, you will find this microbrewery that offers views of the Marina Bay, Esplanade, and the eastern parts of the city.
It is the highest microbrewery in the world, and the excellent views are matched only by the wide range of quality beers.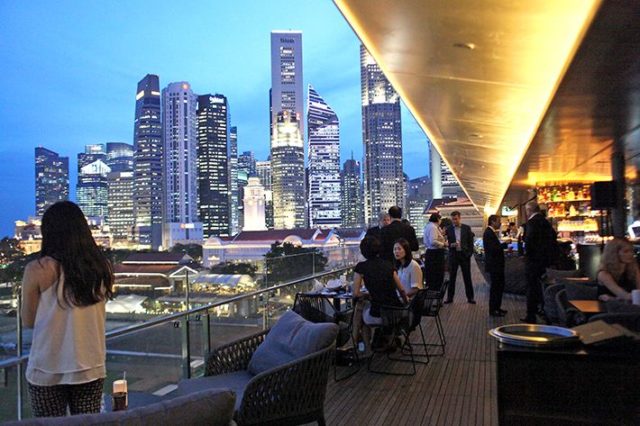 Smoke & Mirrors. Placed on the top of the National Gallery, this bar-restaurant features a matchless view of the Padang and Marina Bay Sands. With a luxurious interior, this is a great place to enjoy their Illusions of Flavor drinks menu. The cocktails are reinvented, combining artistry and chemistry, with new fermentation and distilling procedures. Be sure to try out the Heart of Vincent Cocktail.
Partying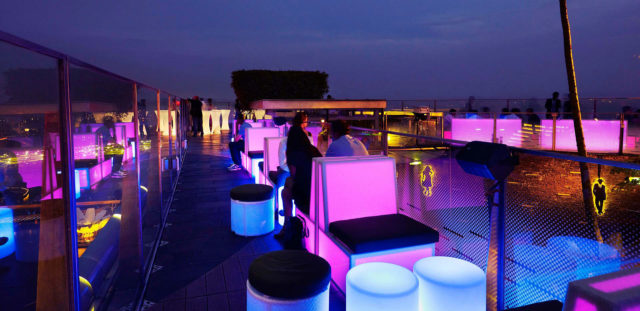 1-Altitude.The height of 900 feet above sea level provides an excellent view of the Marina Bay, CBD and Singapore River. Glass fencing ensures nothing will obstruct the view while you sip on some of their signature cocktails. It is a universal hang out spot and one of the most popular in Singapore. 1-Altitude combines excellent views, comfortable seating, great food and drinks, and all-night parting with live DJs.
The amazing thing about the Singapore skyline is that it's constantly changing so you may want to hurry and visit as much of the rooftop bars before the view changes again!