Going to the movies is one of the social events that a lot of Singaporeans look forward to. After all, it's the only way you can enjoy the presence of a group of people without having to talk for 2 straight hours. The talking comes after the movie is done and the best part about Singapore is, there's food everywhere after the show!
Going to the movies is also quite an event for Singaporean families, who often go to the movies in a group as a part of their family outing. Don't be surprised to see groups with ages ranging from the elderly to the very young in the theater– it might be their weekly family time!
Movie Theaters with a Unique Vibe
Singapore Trip Guide offers a list of the movie theaters that you should experience when you get the chance to visit Singapore.
Dreamers Theater
Located at Shaw Theaters Jewel, this moviehouse is a dream for parents with small kids in tow. We've all been subjected at some point to the judgment prevalent among non-parent moviegoers in regular theaters. There's none of that at Dreamers. You'd be in the company of fellow harried parents who just want to watch a movie without worrying about their little ones.
Here, there is no fear of getting reprimanded for kids running around or talking in the middle of important scenes. There's even a small playing area with a slide and a ball pit — perfect for restless kids who need to expend a little of their pent-up energy before or even during the show. 
Pros:
The audio and lighting in the theater is softer than in regular theaters

Toddlers below 90cm get free tickets

Bean bags at the front of the theater gives kids a more comfortable viewing experience
Cons:
Expect to have kids interrupting your field of vision for most of the movietime. Though this is probably nothing new for parents of young kids. 

You can't get a ticket if you'll be watching alone, for security purposes. 
Theater prices are at least a dollar more than the regular price. On non-peak hours, tickets are $9 for adults and $5 for kids above 90cm. On peak hours, ticket prices are $14 for adults and $8 for kids. 
Be My Kaki Bus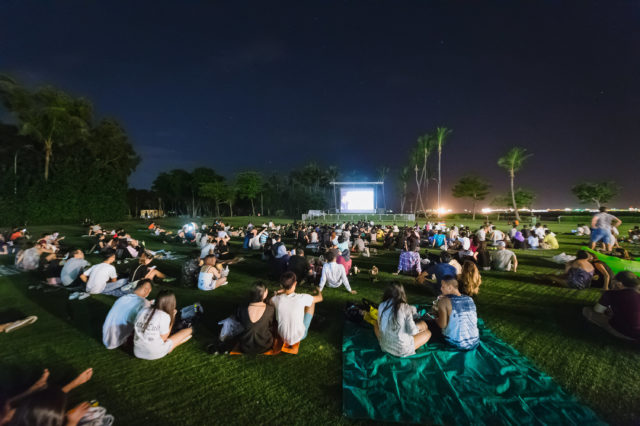 This is probably one of the most unique movie theaters in the world. Be My Kaki Bus actually consists of three huge trucks carrying a large LED screen. It goes around weekly to the different neighborhood parks and other outdoor public spaces to provide free movies to communities.
The bus embarked on its first trip in 2016 and hasn't stopped since then, though it has taken a few short breaks once in a while.
The Be My Kaki Bus has one goal. That's to reignite an old tradition wherein the community would converge in a house or community center to watch TV shows and movies together. This tradition effectively brought a stronger sense of camaraderie within the community that the bus now wants to reignite. 
Pros:
Strengthens the communal bond of Singaporeans

No need to use up gas and energy just to get to a movie-house. And tickets are free, too. 

Watching a movie under the stars. What more can we ask for?
Cons:
You may easily get distracted from the movie by some passing occurrence, or by people-watching perhaps. 
The Be My Kaki Bus movie schedules are regularly updated on its Facebook page. 
MovieMob
This outdoor movie experience has the same concept as Be My Kaki. The outdoor screenings happen in the most random places too. MovieMob only goes out about 6-8 times a year as compared to Be My Kaki's weekly outings. It's already had movie screenings at the Botanic Park and most of Singapore's business parks. 
Pros:
Free movie and free snacks under the stars while lying on a picnic mat with good friends gathered around. 

Allows patrons to choose which movie they want to watch.
Cons:
Distractions are all around. 
The next movie is scheduled on August 31st at the Esplanade Forecourt Garden. 
These are just the three most talked-about theaters in Singapore. If you truly want a unique experience, head on out to theatres that cater specifically to certain nationalities or genres. Singapore's museums and cultural centers also often show indie movies for free to their patrons.
A Unique Feature of Movies in Singapore
There's one thing that movies shown in Singapore have in common, regardless of which theatre it's shown. Subtitles. English movies have Chinese subtitles and Chinese movies often have English subtitles too. 
Note that there are also a lot of theaters that cater to movies in other languages aside from English and Chinese. In this case, both the English and the Chinese subtitles are displayed on the screen. 
There are cinemas that offer different versions, though. You can choose to watch a movie with English or Chinese subtitles, or no subtitles at all. 
Major Movie Chains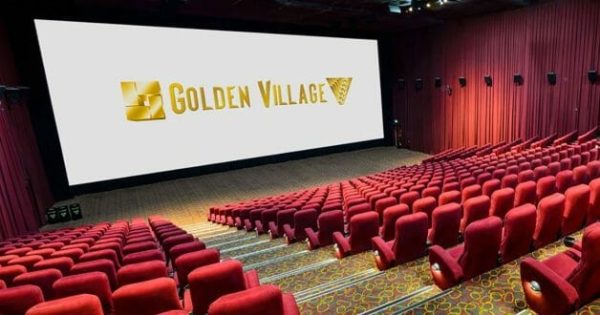 If you're not looking for anything specific and just want to catch the latest blockbuster but happen to be in Singapore, look for movie chains like Golden Village or Cathay Cineplexes. You can buy tickets on their websites ahead of time and reserve seats. Unlike theaters in the U.S, you'll only be allowed in about 10 minutes before showtime. Since space is limited in Singapore, they turn over each theater pretty often. Tickets usually range between $8 and $15 depending on the time of day.
You can find all your favorite movie snacks at the concession stands and some local specialties.