If you ever wondered what a cross between Fast and Furious and James Bond movie would look like, there is a way to find out. F1 Singapore is definitely the show you must see if you're into Fast and Furious and living the lush life.  It was a daunting task making an F1 Race more interesting, but somehow, Singapore did it. Engine roar, sparks flying and nighttime Singapore skyline combined with amazing live concerts and fireworks result in what is designed and executed to leave you breathless.
Even if you are not an F1 fan, the atmosphere here is something that needs to be experienced.
What to Expect at F1 Singapore
Expect thrills and luxury throughout the race weekend. F1 in Singapore features a windy and difficult street race and a bumpy road that makes racing cars spew sparks all over the place. For those looking for something outside of cars, check out the great live music and excellent organization of the event. You can easily get from a concert to a race and vice-versa thanks to the volunteers and layout of the venue.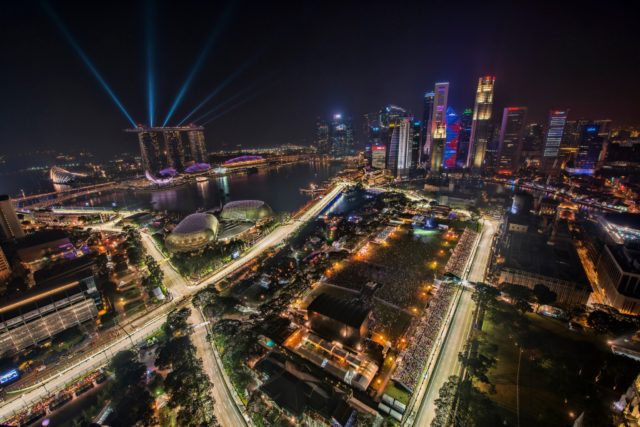 But you can also expect large crowds, especially on Sunday, the race day. This is a street race with a lot of curves, and limited view of the race, compared to the dedicated tracks, so some fans that are used to open view can be disappointed. There are, however, large screens everywhere, and they will provide you with a good view.
We suggest that you choose seats as high as possible because on the lower levels, your view can be obstructed by the concrete barriers and the steel mesh.
As far as the food and beverages are concerned, there are plenty of stands, but you can expect long lines especially on Sunday.
Water refill stations are everywhere, so don't throw away your empty bottle. You can refill it, and you will probably need it on a hot Singapore night.
F1 Singapore Ticket Prices
There is something for everybody here. Ticket prices start at S$80 for Friday and up to S$5500 for three days in the Sky Suite. Of course, there is plenty to choose from in the between these prices.
You can purchase them online on the official website or through a network of resellers. You can find the list of certified resellers on the official website. We recommend that you browse the prices because sometimes they can be lower than buying directly.
Early purchase discounts are available, and one more reason to get your ticket early is that the seats are assigned on a best available basis at the time of buying. You may choose your grandstand and block but not the specific seats in that grandstand.
The circuit is separated into four zones which regulate your entry and movement. The more expensive grandstand tickets offer access to all four zones, whereas other tickets bound your access to just one or two zones that you have selected when buying.
A good option for first-time visitors is the Zone 1 Walkabout Combination: on Friday and Sunday, you can sit in the Pit Grandstand, and then have Walkabout access in Zone 1 for race day.
You can buy tickets for children at a reduced price, but not for all events, and the organizers strongly advise that children under the age of seven do not attend the race for safety reasons.
F1 Singpore Concerts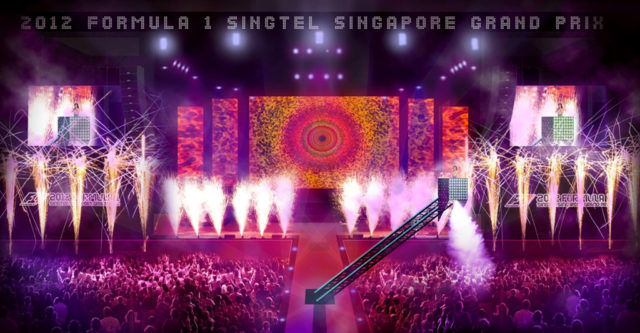 The hallmark of the F1 in Singapore is its amazing concerts. Each yea,r the organizers manage to gather a large number of famous performers. In 2018 we saw Liam Gallagher, Simply Red, Dua Lipa, Jay Chou, and many more.
Back in 2017, Ariana Grande, Calvin Harris, The Chainsmokers, Seal, Duran Duran….
2016 was the year that Singapore danced to the songs from Kylie Minogue, Imagine Dragons, KC and The Sunshine Band, Queen + Adam Lambert….
In 2015, the headliners were Bon Jovi, Maroon 5, Pharrell Williams, and Jimmy Clif.
So you can easily see a pattern here. Great entertainment is guaranteed, and that should be in the headline print on the tickets.
In order to watch the concert, your ticket must correspond to the date of the concert. For example, you must hold a Saturday race ticket to catch the concerts taking place on Saturday.
The biggest concerts are held on the Padang Stage in Zone 4, which is available to all ticket holders.
Getting Around F1 Singapore
The center of the event is a massive track with long walking distances going all around it. It can be confusing but there are volunteers looking to help you on every step. They are well trained and very helpful. The chances of you getting completely lost are low if you find one of the uniformed event helpers.
The racetrack is well connected with buses and the MRT and there are 9 entry gates. When you enter, besides a large number of orderlies, you will see signs posted everywhere, understandable and visible.
The large part of the Circuit Park is accessible to visitors in wheelchairs or with limited mobility.
We suggest that you use this great interactive map. https://www.singaporegp.sg/assets/map/index.php.
It will help you get familiar with the layout and the best entry gate for your grandstand.
If you like an adrenaline rush, loud engines, and loud music, then you can't miss this event. With such a wide selection of entertainment and pricing for all levels, you can find something that suits you.
Taxes and awesomeness are included in the price.