They say a city's history can be told from the traditional foods that are sold in the streets by hawkers and food stalls. These foods also dominate the menus in 5-star restaurants and it's the primary source of comfort its people. 
Singapore is no different. You can easily tell that the city has a rich Malay history based on the prevalence of Malaysian food in its streets and restaurants. 
The Malays are historically seafaring people. This explains why Malaysian food consists mostly of seafood dishes. It's only recently that meat versions of the most-loved Malaysian seafood dishes have evolved. These have also seamlessly combined with various other influences. Nowadays, it's more common to see traditional Malaysian food with a twist of Chinese or Indian cuisine. 
One thing that makes Malay food unique is that meat is broken down by slowly simmering it in a mixture of spice paste and coconut milk. The style of cooking is normally made by mixing the ingredients together on a wok or pan. This is then left to simmer over low heat until the paste is fully absorbed by the meat. This results in a dish where all the flavors have combined and you can't tell where the taste of the spice ends and the meat begins. 
We've compiled a list of Malaysian food that you need to indulge in if you wish to have an authentic cultural experience in Singapore. 
Nasi Dishes
Rice, or nasi in the Malay language, is a primary staple not only in Southeast Asia. It's the one thing that's never absent in any major meal. Steamed rice is still the preferred carb for most Asians. 
Nasi Lemak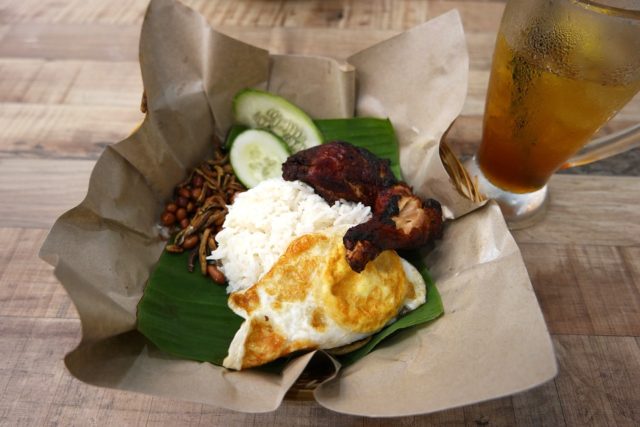 Through the years, Malays have come up with different ways of spicing up their rice dishes. If you're looking for a consistently great rice dish, try the nasi lemak. This is a fragrant rice dish cooked with pandan leaves and coconut cream. It's often served with various side dishes such as fried anchovies, omelette, and sliced cucumbers dipped in spicy sambal paste. 
You can have a taste of this dish at Power Nasi Lemak. The restaurant has 2 branches, 1 in Boon Lay and another 1 in Changi Village. The price for nasi lemak varies depending on the types of side dishes paired with it. 
Nasi Goreng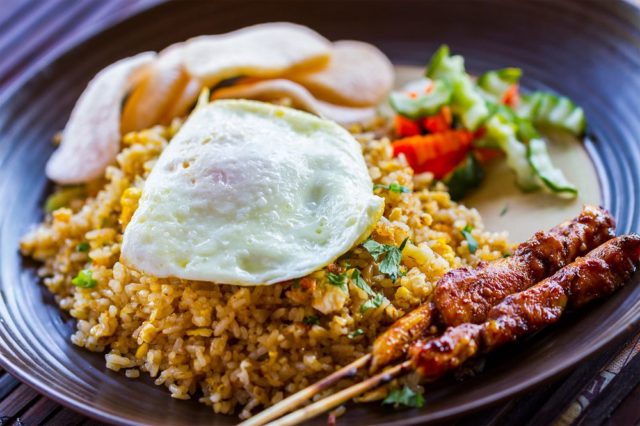 This is one of the traditional Malaysian food with a Chinese influence. Goreng in itself is a different way of cooking food. 'Goreng' means to stir-fry, so nasi goreng is simply stir-fried rice. The mixture of sauces, meat bits, herbs, and spices adds to the savoury-sweet taste of this rice dish. It's also served with various side dishes such as fried eggs, vegetable slices, prawn chips, and others. 
Have a taste of this uniquely Malaysian dish at Geylang Serai Market at the historic Geylang neighborhood. The market also sells other goreng (stir-fried) dishes including: 
Goreng pisang (deep-fried banana)

Ayam goreng kunyit (fried chicken with turmeric)

Mee goreng (spicy stir-fried noodles)
If you wish to have a uniquely Singaporean food experience, it's actually best to buy from hawkers and food stalls. Feel your mouth water as you wait for your meal while inhaling the savoury smell of the dish as it's stir-fried on the wok over high heat. 
Satay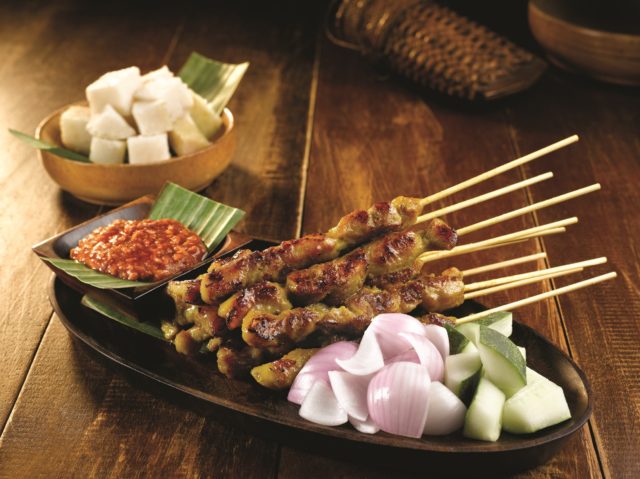 This is the Malaysian equivalent to the all-American barbecue. It's a dish that's traditionally composed of chicken meat marinated in herbs and spices and grilled over a coal fire. Just like other Malaysian dishes, satay has eventually evolved into different variations to meet different taste buds. It's now common to see beef, mutton, goat, tofu, or fish satay being sold along with the chicken satay. In some non-Muslim areas, you can even order a serving of pork satay. 
The grilled meat also comes with a tasty peanut sauce dip. The sauce is sweet but with a subtle sour taste. It's spiced up with herbs, spices, and chilli. There are lots of variations of this peanut sauce. The best way to recognize authentic Malay peanut sauce dip is if it has real ground peanuts on it. The sweet, sour, and spicy taste is also well-balanced so that it tantalizes the taste buds but leaves you still wanting more. 
Malaysian Desserts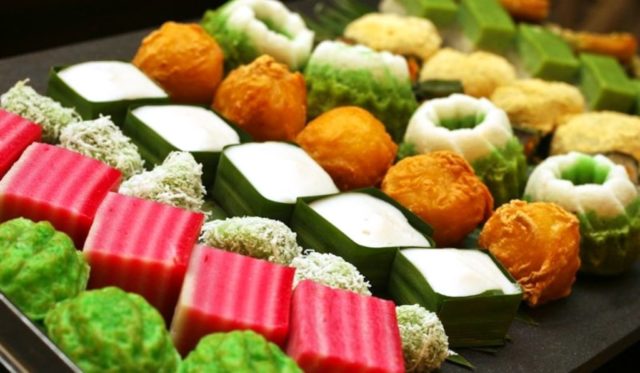 Malaysian-inspired desserts are easy to spot in any restaurant in Singapore. Why? Because these are normally bite-sized cakes, known locally as kuih, that contain any of the following ingredients:
Grated coconut

Coconut milk

Pandan 

Gula melaka, a kind of sugar extracted from the coconut tree

Tapioca
One such tasty dessert that you die die must try (Singlish for 'definitely must try) is the Durian pengat. It's made out of durian cooked in a mixture of coconut milk and sugar. Some variations of this dessert are made more flavorful with the addition topped with extra durian or butter croutons. 
Singapore is a melting pot of different cultures that not only originated in its neighboring Asian countries, but also from other parts of the world. So don't be surprised if you try any of these tasty Malaysian foods but with a unique twist from a different cultural inspiration.