Location: Odeon Towers Extension Rooftop, Downtown CBD
Opening time: 5pm to 1am Sundays to Thursdays 5pm to 2am Fridays and Saturdays
What Makes the Loof Bar Unique?
The Loof Bar and Restaurant offers a unique experience to its patrons. It's located in an urban garden setting at the rooftop of a 23-story high rise. 
Guests are welcomed by the Loof Mama Shop at the entrance. Loof's native Singaporean clientele find this shop quite nostalgic as it's a nod back to their childhoods growing up in Singapore's heartlands. They used to buy goods and treats at the mom-and-pop shops that were quite common back in the day. And just like the old mom-and-pop shops, guests can buy just about anything at the Loof Mama Shop. These include tiny toy soldiers, combs, candies and other knick knacks.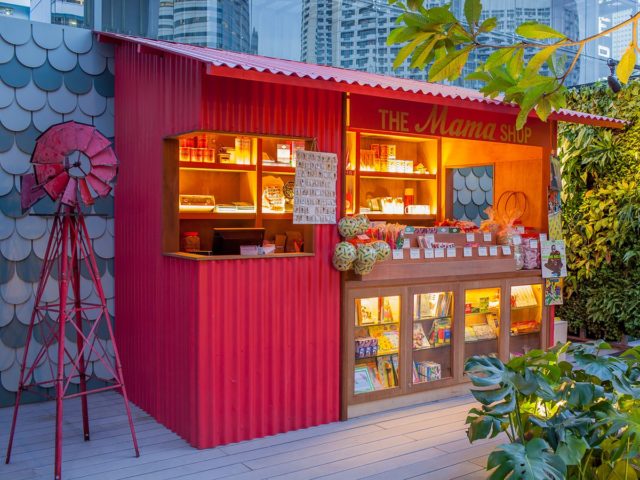 The Loof Bar has a whimsical theme that provides a relaxing atmosphere for Singapore's hardworking workforce at the end of their workday. The bar's playfulness is evident in the name itself. 'Loof' is actually a tongue-in-cheek homage to the way that Singaporeans say 'roof' in Singlish (Singaporean English).  
The lush greenery surrounding the bar gives off a fresh bohemian vibe, too. Guests also get a great view of the Singapore skyline from the al-fresco dining area. 
As a standalone bar, Loof is a first of its kind in Singapore. Nevertheless, it has successfully merged modern influences in Singaporean cuisine with more traditional and well-loved dishes. 
Tasty Bites in the Menu
Loof's playfulness is also quite evident on its menu selection. Where else can you find an entree labeled 'Die Die Must Try'? This is definitely an eye-catcher especially for first-timers. The Die Die Must Try is a party platter that consists of:
Bacon lollipop

Crispy chicken satay

Homemade chilli crab fries

California maki mayo

Wanton chips
This combination of western and local dishes in one platter certainly offers something for every picky taste bud in your group. The chilli crab fries selection is Loof's adaptation of the all-time American favorite, chilli cheese fries. The dish includes a serving of waffle-cut fries covered in cheese and dipped into a homemade chilli crab dip. The dish has been on Loof's menu ever since it first opened in 2005. It has survived the recent menu redesign that was spearheaded by no less than chef Bjorn Shen. 
Chef Born is locally known as the 'King of Dude-stronomy' and owner of Artichoke and Big Bird.
The Kimcheeseburger is another crowd favorite on Loof's revamped menu. This dish plays with your taste buds with its spicy, tangy cheesiness. The spiciness and hint of sourness comes from kimchi. A generous dollop of caramelized onion tops of yummy treat.
Loof also has an extensive list of alcoholic drinks. The list is made up of a combination of western and Asian wines, beers, gins, and various other concoctions. If you're visiting Singapore for a limited time, then this is your chance to try out some drinks with a unique Singaporean twist. The Loof's Asian drink selection include:
Kopi Cat – rum mixed with mocha and salted caramel foam

Uncle Tee-Kee – a mixture of gin and ginger ale with a hint of mint

Singapore sling – gin mixed in with orange curacao, benedictine cherries and pineapple with a hint of bitters 

Man Go, Going, Gone – a mixture of rum and mango. 'Nuff said.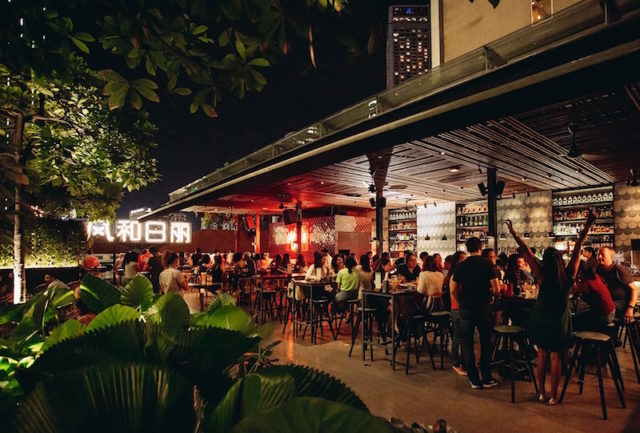 This combination of nostalgia, a great view, and a local take on popular foreign dishes is something you definitely shouldn't miss out on. But you don't really have to take our word for it. Listen in on what the Loof's clientele have been saying about the place. 
What are People Saying about The Loof Bar?
Quite expectedly, most of the reviews for Loof focuses around its whimsical garden rooftop theme. Loof is also celebrated for its good ambiance and the fact that the music isn't too loud. This gives patrons a chance to engage in meaningful conversations without having to shout out every word. 
Patrons also gave a high score for Loof's service staff, who provide great service and give good recommendations when needed. 
It's a great venue for watching national celebrations such as as the National Day Parade or celebrating New Year's Eve out with friends and family. You surely won't miss any of the fireworks from this high. 
One thing that got a low rating is the mildness of the alcohol in most of the drinks. Some patrons recommend re-adjusting the ratio. But most are actually okay with this as it matches the overall ambiance of the place and the general disposition of its audience. Expect to go to Loof to have a relaxing, low-key fun time.