Singapore is a destination everybody should visit at least once in a lifetime. The country might be small, but tourists can discover plenty of cultures with many interesting cuisines to try all by visiting one city state. You can treat yourself to a wide variety of delicious foods that locals recommend, which can be found from hawker centres to fancy restaurants. When visiting Singapore, you should make sure to try one of the most well-known dishes called laksa.
What is Laksa?
Laksa is quite popular as it offers a fascinating combination between Chinese and Malay flavor in a single bowl of rice noodle soup. The rice noodles are served with a slightly spicy soup that contains rich coconut milk (santan kelapa) or sour asam otherwise known as tamarind. Customers can choose the laksa add-ons which include prawns, fish, chicken, or vegetables. The origins of this popular dish are hard to find because there are different varieties of laksas that have been created from various regions of Southeast Asia. Singaporeans believe it was created after several interactions between the locals and the Peranakan people which are of Chinese-Malay descent. Next, some interesting facts about laksa is it was recognized as one of the 50 most delicious foods in the world by CNN travel. Additionally, this dish can be found in Malaysia, Singapore, and Indonesia with various recipes.
Different Laksa Versions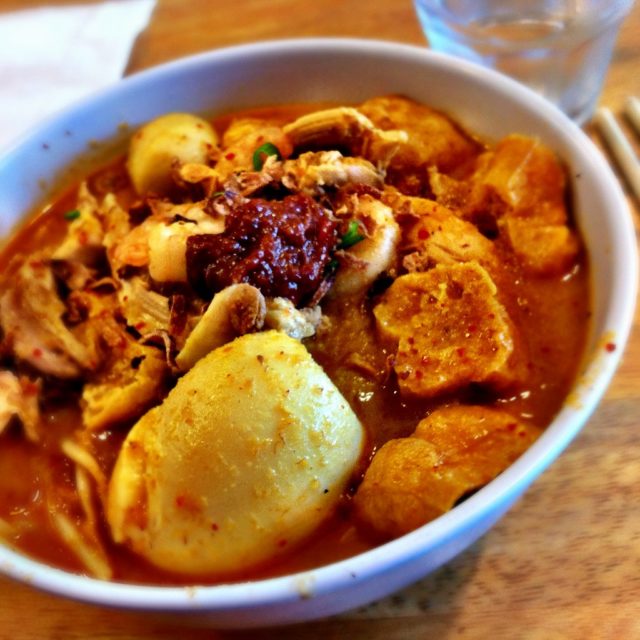 As its popularity reached every corner of the Malay Archipelago, people modified this laksa to many versions. There are several versions of laksas that tourists should know. First, the original laksa, Katong laksa. This Katong laksa's ingredients are thick bee hoon (rice) noodles with coconut-based soup and dried shrimps, fishcakes, and cookles. Sometimes, people enjoy eating it with Otah or grilled fish cake in banana leaves. Next, laksam which originates from Kedah and Terengganu (laksang). Laksam is a rolled up steamed rice sheet added with white coconut-based gravy. The most important ingredient in laksa is slices of dried asam otherwise known as tamarind. It's usually topped with vegetables and spicy herbs. Third, Nyonya laksa from Melaka, also called as fatty laksa (laksa lemak). This sweet and spicy laksa consists of rice noodles prepared with prawn shells and chicken bones in the coconut-based broth. People may mistaken Nyonya laksa with curry laksa until they noticed hard-boiled eggs, cucumber and polygonum slices on the Nyonya laksa. There are other mouth-watering laksas such as Penang asam laksa, Sarawak laksa, Johor laksa, and many more.
Malaysian vs Singaporean Laksa
Malaysia and Singapore are neighboring countries that share a lot in common. Which is the more delicious, either Malaysian laksa or Singapore laksa? After reading reviews, their recipes are very similar. For example, the most popular laksa in Singapore is Katong laksa. It can be found in Malaysia with very similar recipes. Most likely you also can find Malaysian laksa in Singapore. The reason why people keep comparing the taste of Malaysian and Singaporean laksa is probably because of the laksa owner's recipes. Some owners usually modify laksa recipes according to their own taste. In short, laksa is always delicious wherever you eat it. One thing to note is Singaporean food is known to be on the sweeter side whereas Malaysian versions of dishes are more savory!
Conclusion
People should try eating laksa at least once before departing from Singapore. Put laksa in your food list now, and definitely it will satisfy your stomach!