What is Jumbo Seafood all about?
If you're looking for a truly authentic Singaporean dining experience, look no further than Jumbo Seafood. It's a fine dining restaurant that cooks the seafood fresh from the tank. Jumbo Seafood restaurant has several outlets scattered around Singapore. The outlet at Riverside Point is probably the most talked-about, having received the most number of reviews and ratings online. The view of Singapore river and the amazing fresh seafood combine to make one memorable dining experience at this outlet.
Needless to say, all of Jumbo Seafood's outlets offer different views of the city from every angle. The main one at East Coast Seafood Centre has most of its tables in an al-fresco dining area. You can enjoy not just the good food but Singapore's warm tropical weather as well.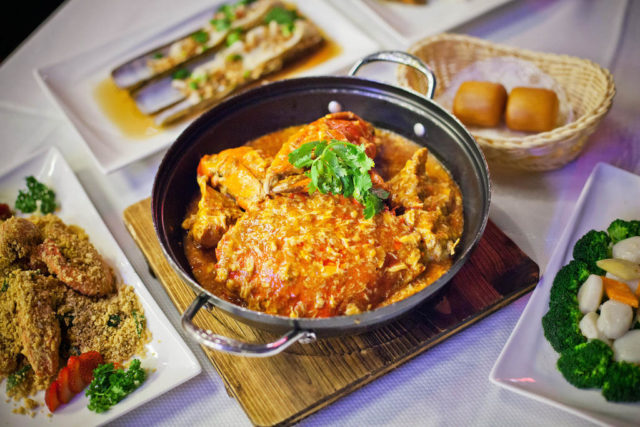 Jumbo Seafood is so popular that there's often a long queue of patrons waiting to be let in at least an hour before the outlets actually open. And note that many of those in the queue already have reservations. They probably just can't wait to get a taste of the Jumbo Seafood experience.
In 2013, Jumbo Seafood was blasted into the Hollywood limelight when it engaged in a Chilli Seafood cookoff against Michelin-star chef Gordon Ramsay at the Singapore Hawker Heroes Challenge. Ramsay won the contest, with Jumbo's CEO Ang Kiam Meng good-naturedly congratulating him for the win. Nevertheless, Ramsay's was by no means a deterrent to Jumbo Seafood's increasing popularity both among the locals and tourists alike.
Jumbo Seafood has come a long way from its rustic beginnings with plastic chairs and tableware. These days, diners are treated to a fine dining experience enhanced by the traditional Singaporean hospitality. The company puts a premium on quality service, which is guaranteed through continuous staff education and training. Expect to be served by an attentive staff.
What is Jumbo Seafood known for?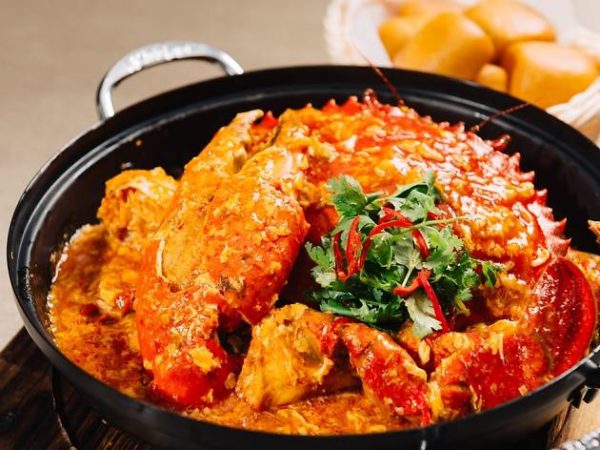 Jumbo Seafood started out as a small restaurant outlet at the East Coast Seafood Centre. Its reputation grew as it consistently served fresh seafood with a uniquely Singaporean vibe. Today, Jumbo Seafood is best known for two award-winning dishes, the Jumbo Seafood Chilli Crab and its signature Jumbo Black Pepper Crab. These dishes have been in the restaurant's menu since the first outlet opened in 1987.
Jumbo's Chilli Crab is well-loved by its patrons for many reasons. Foremost among these is the fact that the crab is well-cooked so that it melts in the mouth while still retaining its delightful taste. The crab is big enough for several people to share. Its juicy meat is a testament to the freshness of the crabs. After all, it was alive just mere minutes before it got served on that plate. It's bathed in a tangy sweet chilli sauce that diners also use as a dip for the Fried Mantou.
In any Jumbo Seafood outlet, you'll most likely be greeted by tanks of fresh sea creatures that are all ripe for the picking. There's a variety of crabs, prawns, tilapia, and other sea creatures swimming around waiting for customers to pick them for their plates.
However, unlike in hawker centres where you can often witness the entire food preparation process, this isn't likely to happen at Jumbo Seafood. The restaurant chain has a central kitchen in a separate location where all the sauces are prepared for distribution to its outlets locally and overseas. This ensures that the taste of its traditional dishes remains the same regardless of where the outlet is located.
To date, Jumbo Seafood's award-winning Chilli Crab dish has reached other parts of Asia with franchises in China, Korea, Vietnam, Taiwan, and Thailand.
Other popular dishes that you can enjoy in any Jumbo Seafood outlet include:
   

Live Prawn Fried with Cereal

   

Deep Fried Red Tilapia w/ Nonya Sauce

   

Xo Fried Rice w/ Scallops

   

Sambal Kangkong
The restaurant has recently released ready-to-cook versions of their sauces so loyal customers can try to re-create their favorite dishes at home.
Should You Go Solo or With a Group?
Jumbo Seafood outlets provide flexibility for diners to either dine in large or small groups or even alone. As a matter of fact, Jumbo Seafood is a favorite among many corporate executives. These executives often bring clients and foreign visitors to Jumbo Seafood as a welcoming gesture. Jumbo Seafood offers private dining rooms where corporate meetings and group gatherings are held amidst the mouth-watering aroma of the seafood dishes.
The restaurant chain is also a favorite among groups of families and friends who are celebrating special occasions. Some loyal customers have even engaged the help of the restaurant's staff in their marriage proposals to their girlfriends. And the girls definitely said yes!
If you're not in the mood to go out, you can also have some Chilli Crab or any other item from Jumbo Seafood's menu delivered through any of Singapore's ever-reliable food delivery services.