Afternoon tea is a tradition that involves tea served in a laid back setting paired with scones, cakes, finger sandwiches, butter, and a variety of other dainty foods. It's normally served during the lazy mid-afternoon hours. On the other hand, high tea is tea served with heavier meals. Meat and fish dishes, pies, potato or onion cakes, cheesy casseroles, and baked beans are the usual pairings for high tea. 
In Singapore, the tradition of high tea and afternoon tea is so intermixed that there's really not much difference between the two at this point. It's a tradition that many Singoreans, especially the ladies, look forward to. It's a chance to catch up with friends and family. It's a much-needed two- to three-hour breather from a hectic day. 
And the best part? High tea is often served in pretty little plates and stacked tiers. Perfect for that instagrammable shot!
Looking for a fun and picture-perfect high tea place to meet up with your friends? Check out our list below:
The Knolls at Capella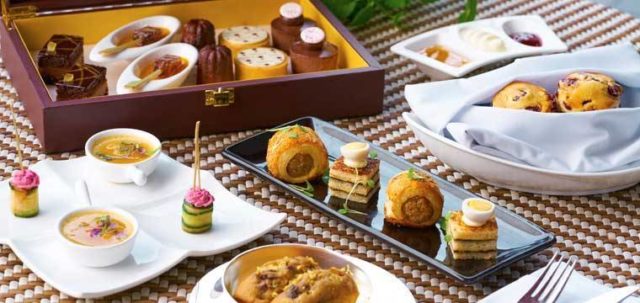 Location: Capella Hotel, Sentosa
The Knolls is a top-rated restaurant that specializes in European cuisine located in one of Sentosa's secluded spots. It's a favorite haunt among Singaporeans who love a good buffet offering. They also offer a wide selection of alcoholic drinks, which is served free-flow style on Sunday brunch. 
The Knolls' high tea selection is as extensive as its brunch buffet menu. Indulge in delicious butterfly scones with clotted cream or their bon-bons made of tomato and goat cheese. Their tea selection includes green tea and raspberry, white tea with yuzu (a kind of citrus fruit), rose and ylang (a yellow flower common in these parts of Asia). 
You can choose to have your tea al-fresco with a great view of the South China Sea on cool days. The outside area lends a resort feel to the place with its three-tiered swimming pool. But in the hottest summer days, most patrons prefer to have their tea in the cozy dimly lit indoor coves. 
Both the indoor and outdoor areas offer a great backdrop for social media photos. Not to mention the creative way in which the tea sets are served. 
Fosters Steakhouse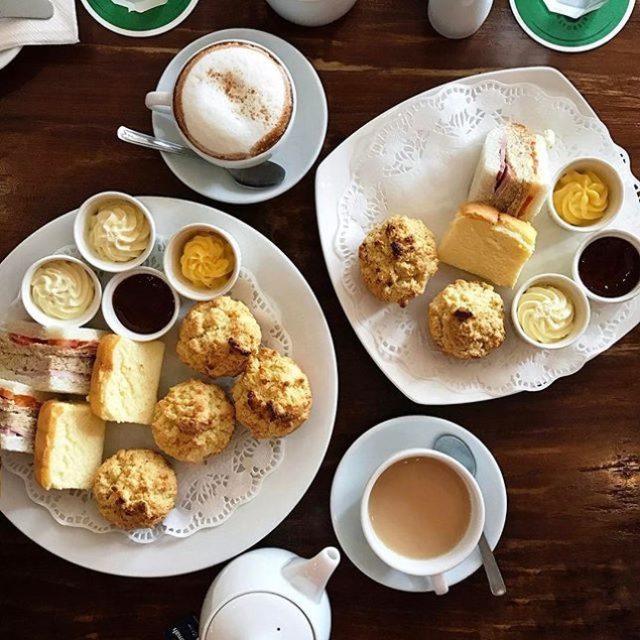 Location: Holland Avenue
Just like many other tea houses in Singapore, Fosters Steakhouse also serves an extensive lunch menu. Fosters' Devonshire Cream Tea Set is the only high tea offering, but it's more than enough for the restaurant's loyal patrons. The tea set includes freshly-baked scones served with butter and home-made strawberry jam. It also comes with a plate of finger sandwiches. 
You can choose to have a hot pot of tea with your scones or a cup of freshly-brewed coffee.
Fosters' biggest plus factor is that it gives great value for your money. For only $11.50, you can catch up with your friends and family at a restaurant that offers great food and a warm ambience. You get lots of instagrammable shots, too.
The Marmalade Pantry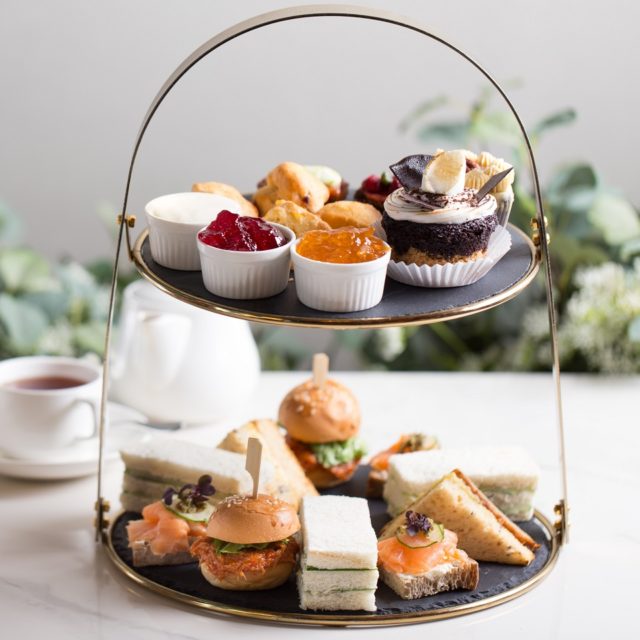 Location: ION Orchard, Downtown and at The Oasis Hotel Novena
In a lot of the online reviews you'd find about the Marmalade Pantry often referred to its Novena location. The place is easily accessible through the Novena station MRT. All the locations offer full-set menus from breakfast to dinner and snacks in-between.
The Marmalade Pantry's high tea set offering is available from 3pm to 6pm daily. Looking for a nice place to meet up with a friend that gives you good value for your money? This is the just the right place. Each tea set costs around $58 and is good enough for sharing by two people. It includes two pots of tea and a wide variety of snacks, including:
Smoked salmon sandwiches

Truffle egg mayo sandwiches

Cucumber sandwiches

Chilli crab meat sliders

Petits fours

Buttermilk scones with candied orange & cranberry
The Marmalade offers at least 8 different flavors on its tea selection. You can choose any of these flavors for your afternoon tea set. For an additional $15, you get a 375ml bottle of Moscato.
The Atrium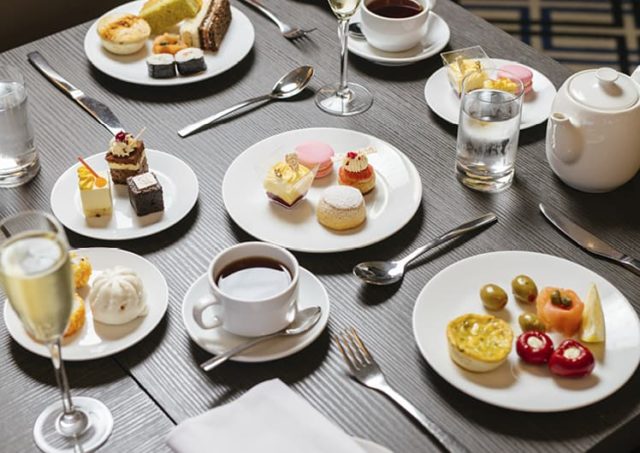 Location: Pan Pacific Hotel at Marina Square
The Atrium makes its way to our list by virtue of its Peranakan dish selection. The Peranakans are descendants of the early Chinese settlers in Penang, Malaysia. Peranakan cuisine is also often referred to as Nyonya cuisine. The term nyonya refers to female Peranakans, which makes sense since women were traditionally in charge of the kitchen in the old days. 
Peranakan cuisine combines a delicious mixture of traditional Chinese dishes. The spices and flavorings that are common in Indo-Malay dishes. Be prepared to have a feast of tangy, spicy and aromatic dishes paired with a pot of hot tea. This is offered in a buffet with English selections. 
The Atrium's High Tea Buffet is available on weekends from 2:30pm to 5:30pm. 
High Tea in Singapore on Weekdays
You can still indulge in the posh tradition of high tea in Singapore even if your visit falls on a weekday. 90% of Singapore's restaurants offer various high tea selections in the quiet hours between lunch and dinner time.