Marina Bay Sands has become a landmark in Singapore, which is quite a difficult task, considering the competition. When seeing it from a distance, and walking around inside the buildings, you can almost imagine the conversation when the designers asked the investors what they would like to have as their main feature. The answer was probably: Let's have it all!  
And the same thing can be said for the restaurants at the Shoppes at Marina Bay Sands, Singapore. You can have it all.
Amazing light shows, excellent shops, and even a water canal with operational gondolas…Everything at the Shoppes is designed to be an awe-inspiring sight, so no wonder that the restaurants are a unique experience.
You can choose from the most exquisite French cuisine, through modern fusion food, all the way to the excellent street food. There is an urban myth that a man walked out hungry from the Shoppes, but no one really believes in it.
You will find over 40 restaurants there, so choosing a place to eat can be a daunting task. 
Bread Street Kitchen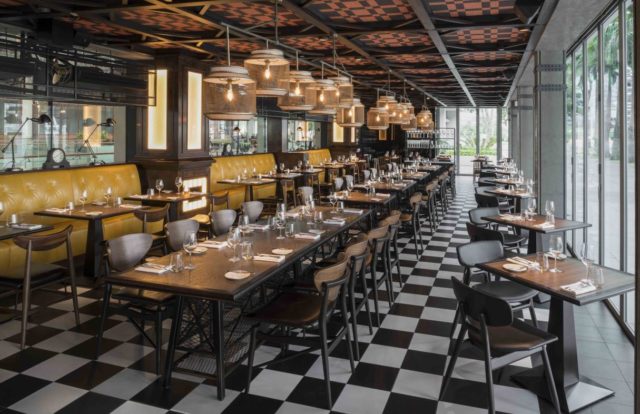 If you like celebrity chefs than you just can't miss eating at the Bread Street Kitchen. It is owned by Gordon Ramsay, probably best known to most audiences as a TV star, famous for his shows "Kitchen Nightmares" and "MasterChef US."
The relaxed and beautiful interior is a great place to enjoy their signature dishes, Tamarind Spiced Chicken Wings and Traditional Fish & Chips. 
Gordon Ramsey is the most famous, but there are a couple of more Chef Celebrities that own restaurants here. 
DB Bistro & Oyster Bar
DB Bistro & Oyster Bar is owned by Daniel Boulud, one of America's culinary authorities, and chef-owner of the three-Michelin-starred restaurant, DANIEL.
The menu is based around seafood dishes steeped in the French tradition.
You can enjoy Boston lobsters, Alaskan king crabs, and Singapore's most extensive variety of oysters. Choose from Bigeye Tuna, Snapper, Tarakihi, Trevally, Moonfish or Blue Cod— grilled, fried, roasted or steamed. 
Fish served here are caught wild and sustainably sourced.
CUT
CUT is a restaurant owned by Wolfgang Puck, famous cook, and owner of the now-legendary Spago Beverly Hills.
It is located at Galleria Level, and it is all about beef grilled over hardwood and charcoal. You can choose from Australian Angus, Wagyu selections from USA, Australia, and Japan, and true Japanese A5 Kobe Beef.
WAKU GHIN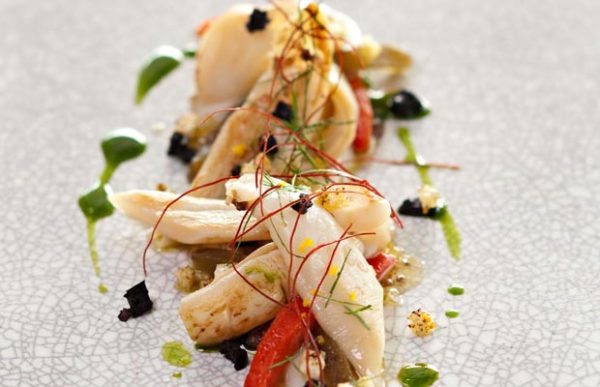 WAKU GHIN is the two-Michelin-starred restaurant by Tetsuya Wakuda. It combines the freshest Australian seasonal produce with French culinary arts and Japanese-style presentation.
Signature dishes are Marinated Botan Shrimp with Sea Urchin and Oscietra Caviar, and Japanese Ohmi Wagyu Roll from Shiga Prefecture with Wasabi and Citrus Soy.
If you want to get to know cooks that are not celebrities yet, you can try out
Nostra Cucina
Nostra Cucina is a casual dining place that offers a pleasant experience with their menu featuring a variety of delicious home-style Italian cuisine. They offer a selection of handcrafted artisanal pizzas and homemade pasta.
Their signature dishes are Beef Carpaccio, Roasted Chicken Wings, Confit Duck Leg, Linguini, and Pepperoni.
Toast Box
Toast Box offers the best Singaporean cuisine.
Their signature dishes are Nasi Lemak, Laksa, Yuanyang, a robust Traditional Kaya Toast, Banana Cake, Toast Box Traditional Toast, Chilli Crab Toast Sticks, and Cheesy Chicken Chop Noodles.
Sen of Japan
Sen of Japan boasts an unobstructed view of the bay area. The menu is comprehensive with everything from sashimi to yakitori, and modern maki rolls like the Salmon Aburi Roll with avocado.
Their signature dish is Barachirasi.
Punjab Grill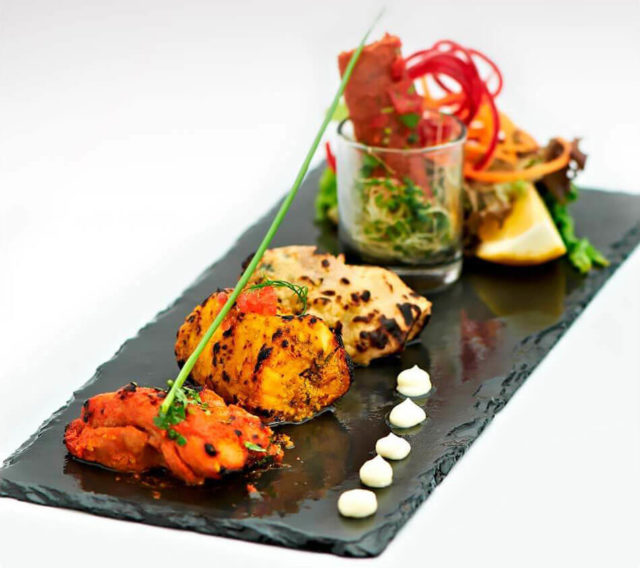 Punjab Grill. The restaurant's menu is speckled with rich curries, slow-cooked kebabs, and innovative vegetable dishes, and all of them originate from the food of Lahore, Peshawar, Amritsar, Multan, and the nearby regions.
Signature dishes are tandoor-cooked foie gras tikka with mango chutney, and chicken tikka quesadillas served with mint coriander dip.
If you are up for some sweets and drinks, you can visit
Honorable Mentions
SweetSpot, which specializes in European desserts. Their most famous sweets are macarons.
TCC – The Connoisseur Concerto. A luxury brand specializes in creative beverages and desserts gourmet cuisine.
Their signature sweet is Dark Devotion, which features an exquisite dark cocoa cake with warm chocolate lava.
TWG Tea Salon & Boutique is the most elegant luxury tea brand.
Their signature drinks are tea cocktails, tea mocktails, freshly squeezed juices, wines, champagne, and others to enhance your dining experience.
And if you are up for something awesome, visit DC Super Heroes Café. The life-sized superhero figurines will keep you company, while you watch excellent murals and enjoy superhero colored food that comes with different superhero logos. 
You can try the Dark is the Knight Truffle Pasta, Superman: A Smallville Original and You Can't Save the World Alone Pizza.
After all that, you can stop by for some ice cream at the Cold Rock Ice Creamery. They can create over 10 million combinations of ice cream by mixing chocolates, candies, cakes, and fruits. 
The Shoppes is not only a destination for shopping, but also for food lovers. There aren't many places in the world that can offer such a selection of different food styles and types. But, if you are not careful, you should note that a day in the Shoppes restaurants usually translates to one week of dieting.