One of the most iconic foods you can find in Singapore is chicken and rice. It's a must try if you're visiting and it's actually a staple for Singaporeans. You can find chicken and rice at any food center, or hawker center as they're called locally, and there are usually restaurants that also serve this dish inside malls. The name reveals what the main components are for this dish but Singapore Trip Guide will break down exactly why chicken and rice is so tasty!
What is Chicken and Rice?
Chicken and rice is composed of a bed of rice and slices of braised chicken with a few types of sauces on the side. Although most foods consider the protein to be the star of the meal, in the case of chicken and rice, it's the rice that is magical. The rice is cooked in chicken broth and other ingredients like ginger, scallions, and chicken fat which enriches the flavor of the rice to be ridiculously aromatic. In most chicken and rice places, you can order extra rice (or extra chicken of course) if you're feeling hungry! One thing to note is that hawker center portions are much smaller than a standard restaurant meal portion so you can either order extras or multiple orders to fill yourself up or it's a great opportunity to try a lot of different food items at a hawker center.
The chicken part of chicken and rice is a slow braised whole chicken that is simply cooked in a broth of salt, scallions, and ginger. Some shops might put some of their own special ingredients as well. The result is a very tender, juicy chicken that is sliced with skin on into small, bite-sized pieces. The chicken is served on top of or next to the bed of chicken-broth-infused rice and typically served on a plate.
Sauces for Chicken and Rice
Some people prefer their chicken and rice pure and don't require the extra sauces. The seasoning used in the braising of the chicken and cooking of the rice offer a good amount of flavor but sometimes you need an extra kick in your bite. There are a whopping three different sauces that are typically eaten with chicken and rice. The first two we'll go over are the most common that you'll find in hawker centers in Singapore and the third has more of a Chinese root (where the origins of the dish came from).
Dark Soy Sauce
Dark soy sauce is a thick soy sauce compared to what you'd see eating sushi. It's cooked down with sugar which is why it's much more viscous and sauce-like. It's pretty sweet in flavor so some people may not be used to having a sweet sauce on savory chicken and rice but it's definitely a favorite among locals. Food centers will have a squeeze bottle available with the dark soy sauce for self-service. Some places will serve your chicken and rice with a small dish of the dark soy sauce on the side.
Chili Sauce
For those of you who like your food with some heat, you can try the somewhat tangy chili sauce. It's made with a base of chopped chilis, a bit of sugar and ginger, and some lime juice for the acid. It's great for cutting through the sometimes fatty parts of the chicken, especially when eaten with skin, and is not too spicy. The type of chilies they use are not too hot and do not linger in your mouth for too long like some hot sauces do. Even if you're not a huge fan of spicy food, we recommend you try at least a little!
Scallion-ginger Sauce
The final sauce that goes with chicken and rice is more like an honorable mention as it's not as common as the first two but it's the sauce that the Chinese version of chicken and rice is typically served with. Although it's not found everywhere chicken and rice is offered in Singapore, it is sometimes available depending on the place you're eating.
Where to Eat Chicken and Rice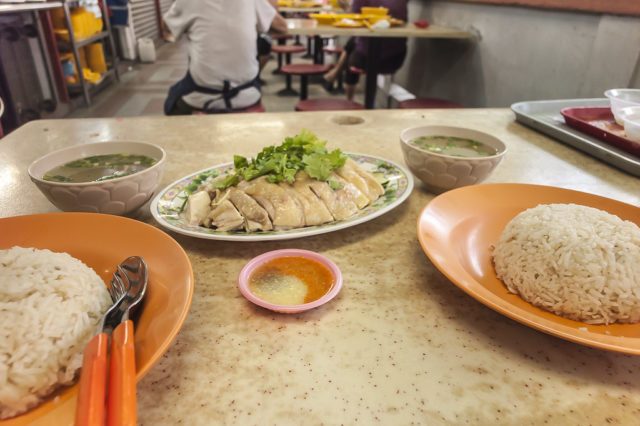 Now that you have an idea of what you're getting yourself into by ordering chicken and rice, here's a list of great spots to try! Our opinion is that any food center place that has at least a few people lined up during lunch or dinner hours is probably going to be great. However, if you prefer an air-conditioned, sit-down place, below are a few options. Keep in mind that these are local chains so they have multiple locations! Just simply search the web for these names and find the one most convenient for you.
Wee Nam Kee Chicken Rice
Boon Tong Kee
Tian Tian Hainanese Chicken and Rice at Maxwell Food Center