The National Museum of Singapore is a storehouse of Singapore's history and civilization. This is like a treasure chest for those wanting to learn the incredible history of Singapore.
This striking building has the best of both old and new architectural styles. The museum has been divided into various exhibition galleries that symbolize the nation's heritage.
Popular Exhibits
Singapore History Gallery
Begin your tour of the National Museum of Singapore at the main exhibition gallery known as the Singapore History Gallery situated on Level 1. Singapore History Gallery gives you a comprehensive look at the history of Singapore from the beginning. You will be amazed by the momentous collection of Chinese coins, pottery, and jewelry found in this gallery that depicts Singapore's origins as a major trading port.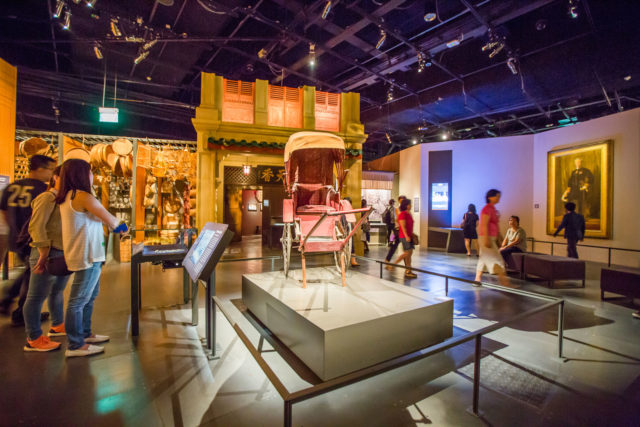 To feast your eyes on the antique works is a real privilege. You can also gaze at the enticing Singapore Stone kept in the Singapore History Gallery. 14th century Gold ornaments excavated from nearby Fort Canning Hill will also catch your eye.
 Gallery 10
You will also spot "Gallery 10" on the same level (1), where you can unleash your imagination using projection technology. It offers you a chance to immerse yourself in the world of art and technology using innovative digital art and design.
Glass Rotunda and the Story of the Forest
As you step onto Level 2, head inside the Glass Rotunda to get your mind blown away with a multimedia representation of "Story of the Forest." An exquisite exhibition, "Story of the Forest," transports its visitors to a magical world of dazzling flowers, trees, and animals with dreamy music in the background. Get to know about the wildlife of Singapore through a fantastic visual display will give you a natural delight.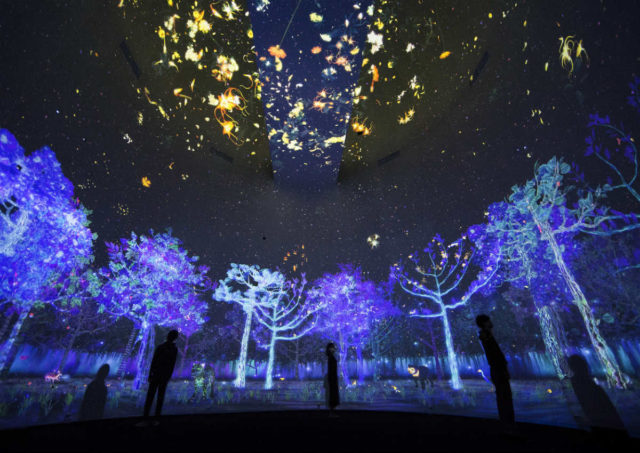 Another interesting artifact is displayed at the Grand Staircase on level 1 in the gallery "History of National Museum of Singapore." A mural, built entirely in four days, showcases the museum's historical heritage over time. It highlights the museum's origin's as Raffles Library (1845) as well as two gold coins donated by the Temenggong of Johor (1849). Highlights also include a tiger from museum's zoological collection and animals from William Farquhar Collection of Natural History Drawings.
Is your interest building up? There is more on Level 2 so stay tuned.
Goh Seng Choo Gallery
If you are interested in the concept of magic and wizardry, head into the "Magic and Menace" Gallery to discover a world of magic and supernatural beliefs.
Growing Up
Level 2 also houses the "Growing Up Gallery." "Growing Up" will enlighten you about the experiences of children growing up during the 1950s and 1960s (the early years of Singapore) and how they endured political turbulence before and after gaining independence.
Surviving Syonan
An inspiring depiction of Singapore's hardships and perseverance throughout the Japanese occupation, "Surviving Syonan" sheds light on how Singaporeans tackled daily life challenges with courage and patience. You will find "Surviving Syonan" on Level 2 as well.
Modern Colony
The "Modern Colony" exhibition is something that cannot be missed. Here you will catch glimpses of a cosmopolitan society. You will also set your eyes on a diverse collection of beautiful dresses and gowns worn by people of Singapore during the British rule.
Voices of Singapore
If you fancy popular music, performances and film screenings, then "Voices of Singapore" is a must-visit. "Voices of Singapore" explores Singaporeans' way of expressing themselves with the help of music over time. This exhibition, on level 2, is amongst the museum's highlights.
Other permanent exhibits include "Wings of a Rich Manoeuvre," a rhythmic dance of kinetic chandeliers in the Glass Atrium and Singapore, Very Old Tree, a collection of 17 images of various trees of Singapore.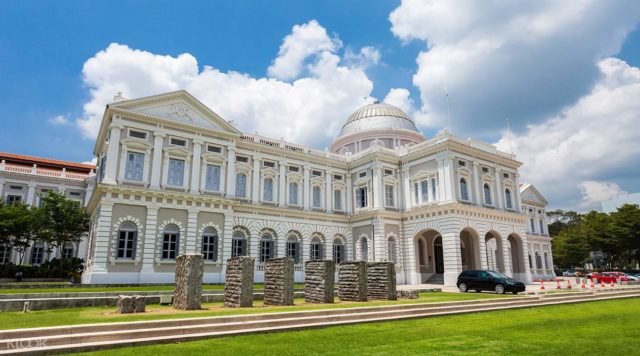 And, a plus is that you can also enjoy free guided tours in the National Museum of Singapore.
When you feel hungry, head over to "Food for thought" cafe within the museum to try out some unique food items.
Cost
There is no entrance fee for Singaporeans and permanent residents. Non-citizens are required to pay an admission fee of 15 dollars. However, students and seniors (sixty years and above) enjoy a discount and only have to pay 10 dollars.
Hours of Operation
The National Museum of Singapore opens every day from 10 am to 7 pm. There is no admission to the Glass Rotunda after 6:15 pm and to all other galleries after 6:30 pm.
Recommended Length of Visit
We would suggest spending at least 3 to 4 hours in the museum to take a closer look at all the splendors of Singapore's past.
Don't wait any longer and start gearing yourselves for a trip to the National Museum of Singapore.