The Singapore Zoo should be a highlight of your trip if you're travelling with kids. 
It's not just a regular zoo where all you do is walk around and have a look at animals wallowing in their tight cages. The Singapore Zoo has an open-cage concept within a natural rainforest setting. The zoo also offers a lot of fun and excitement for the entire family. There are shows and activities that would surely keep everyone on their toes. 
Animals and Zones
The Singapore Zoo is one of the longest-running zoos in Asia, having opened in 1973 as the Singapore Zoological Gardens. Its original 300-animal collection has since expanded to include close to 3,000 animals from 300 different species. These animals are categorized into different zones based on their habitat of origin.
Let's have a look at some of the zones where everyone would most likely learn something new, including the adults.
The Australasia Zone
Naturally, the kangaroos and wallabies are the stars of this zone. Most people assume that kangaroos can only be found in Australia. And these are usually the grey ones that hop on land and are seen in almost every Australian promotional image. 
But did you know that there's also another kind of kangaroo? There are ones that walk on trees, too! These are the tree kangaroos that are native to Papua New Guinea. 
Other animals to see at this zone are the cassowaries, pygmy hippos, and red river hogs.
The Great Rift Valley of Ethiopia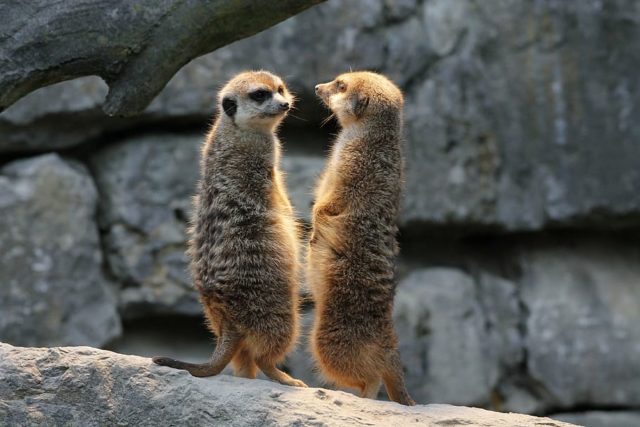 The Singapore Zoo definitely wasn't joking around when they set up this habitat. The zoo has perfectly captured the unique diversity and the rocky landscape of Ethiopia's Great Rift Valley. You'll find Nubian ibexes, Hamadryas baboons, rock hyraxes, saddle-billed stork, black-backed jackals, and meerkats.
Treetops Trail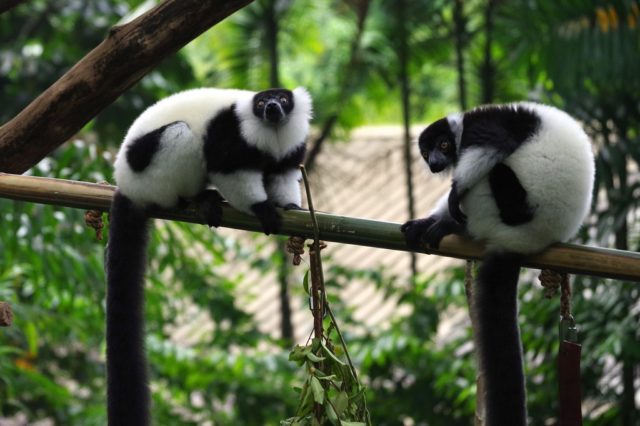 You may already be familiar with the sights and sounds of animals that live on land. Now it's time to get acquainted with animals that live in the higher layers of a rainforest. 
Have you ever seen, or even just heard, a Siamang? No? Well, the first thing you'll most likely hear as you get into this zone are the calls of its resident Siamangs, Anna and Ako. The Siamang is native to the rainforests of Asia, particularly Thailand, Malaysia, and Indonesia. 
Other animals you'll meet at this zone are brown lemurs, cotton-top tamarins, white-faced saki monkey, ring-tailed lemurs, false gavial, and the greater mousedeer. 
Fun Activities at the Singapore Zoo
Learning about animals and their native habitats isn't the only thing that you can enjoy at the Singapore Zoo. 
The Daily Shows
Rest your feet up for a few minutes by sitting back and watching the different animal shows. 
First up is the Splash Safari Show that runs twice daily. The first show is at 10:30 AM and the last one is at 5:00 PM. The show features California sea lions doing tricks and showing off for the crowd. This is going to be a wet one so be sure to bring some extra clothes. 
Next on the line-up is the Rainforest Fights Back Show. This show has a more serious tone as it teaches the crowd about the dangers of deforestation to animals. The show comes up at 12:30 PM and 2:30 PM daily. You may start thinking twice about raising certain animals as house pets once you're done with this show. 
Fun for Kids!
Learning about animals through observation could be fun for a while. But kids are kids and they will surely become restless. Enhance their enthusiasm for more learning by getting them to engage in activities that bring them up close to the animals. 
Give your kids the chance to learn more about different farm animals by getting really close to them. Or better yet, to feed and groom them! These activities are done with the close supervision of the animal's keepers. 
Another unique feature of the Singapore Zoo is that it incorporates a fun theme park in this layout. Kids will surely love splashing around at the Wet Play Area and sliding down its animal-themed slides. There's also a Houbii Rope Course, where kids (and adults!) get to swing on ropes and climb up every possible climbing spot. All done with an amazing view of the Garden with a View. 
Pro Tips
The Singapore Zoo is like a world on its own. The best way to immerse in everything that it offers to get there as early as you possibly can. Don't waste your time falling in line for tickets. Buy tickets online! The zoo opens at 8:30 in the morning but it doesn't get too crowded until midday. So you don't have to worry about some unsuspecting photobomber ruining your pictures for another hour or two. 
Do note that the Singapore Zoo aims to promote conservation. It's best to bring reusable water bottles to support this cause. There are water refilling stations scattered throughout the zoo. You don't just support conservation, you also get to save up some cash to spend on other fun activities.