Singapore Botanic Gardens, one of Singapore's most popular tourist destinations, is an ideal place for those who crave nature and outdoors. Singapore Botanic Gardens is an assemblage of various ancient gardens where you can experience nature in full bloom.
The most impressive thing about the Gardens is that it is listed as a UNESCO World Heritage Site. And this is the only destination in Singapore to have attained this title.
The Botanic Gardens is among Singapore's best recreational offerings and a must visit for all the nature loving tourists. If you are one of them, keep reading to find out more about this nature's retreat.  
Historical Overview
The history of Botanic Gardens can be traced back to 1822 when Sir Stamford Raffles, an avid naturalist, created the first botanical garden at Fort Canning. Sir Stamford Raffles was the modernizer of Singapore who laid the foundation of the incredible Gardens. 
In 1859, Singapore Botanic Gardens based on Tanglin Road was unveiled to the world. Back then, the Gardens was just 32 hectares in size. Since then, the Gardens has grown not only in size but also in popularity and has played an instrumental role on Singapore's horticulture and agricultural fronts.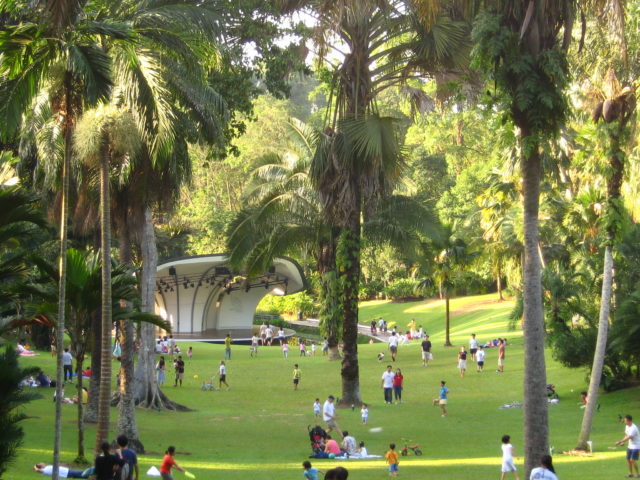 The 82-hectare Botanic Gardens is now home to a multitude of small gardens of various kinds including the National Orchid Garden, Jacob Ballas Children's Garden, Ginger Garden, and many more.
In 1928, the Gardens launched its orchid hybridization program which has played a pivotal role in Singapore's horticulture industry.
In 2015, the Gardens were named a UNESCO Heritage Site.
What Can You See in the Gardens?
There are multiple places to visit in this beautiful kingdom of nature. We only have space to talk about a few!
Singapore Botanic Gardens consist of various mini gardens. The Ginger Garden displays over 550 different kinds of ginger. You can also listen to the soothing sounds of the descending waterfall in this garden.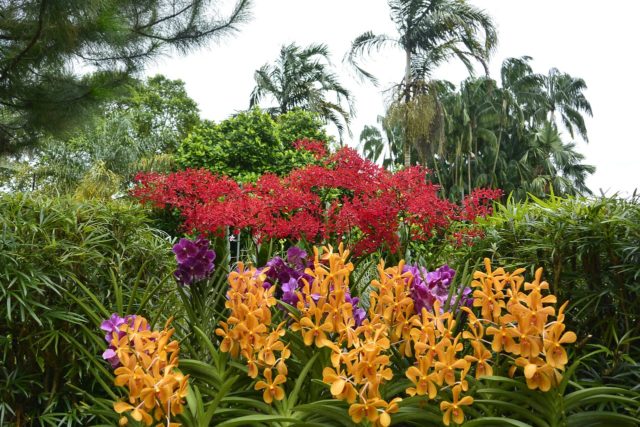 The National Orchid Garden will leave you spellbound. Though the entire park is free to be explored, you have to pay a small sum of S$8 to visit this garden. National Orchid boasts more than 1000 species and 2000 hybrids on display. It is located on the highest hill in Singapore Botanic Gardens, where Burkill Hall, a charming two-story bungalow can be seen. Other notable attractions include Ethnobotany Garden, Jacob Ballas Children's Garden, and the Rain Forest.
You should definitely pay a visit to the Heritage Museum based within the gardens, where a variety of historical items and plants specimens are displayed.
Another popular attraction is the Swan Lake. White mute swans enhance the beauty of the lake, making it look like a piece of heaven.
Singapore Botanic Gardens has ample space for family gatherings and festivities. There are plenty of good quality restaurants where you can enjoy delicious food and refreshments.
The sight of abundant wildlife at these gardens will bring you a sense of awe and wonder. A variety of turtles can be seen in ponds and lakes. You will also catch sight of massive monitor lizards.
The Location
Located in central Singapore, the Botanic Gardens is less than ten minutes of a walk away from the famous Orchard Road Shopping District.
The opening time of Singapore Botanic Gardens is from 5 a.m. to midnight daily. Morning is considered the perfect time to visit the gardens as humidity can take its toll in the afternoon. Take your water bottle with you in case you get dehydrated.
So, what are you waiting for? Start grabbing your essentials and plan a rejuvenating trip to Singapore Botanic Gardens. Because there's nothing like nature and outdoors to recharge your batteries!