Visiting Singapore and not seeing Haji Lane is not punishable by law, but it probably should be. 
This old–style, now hipster part of the Singapore's Kampong Glam district is a rare combination of cultures. Eclectic shops, fusion kitchen cafes, and traditional restaurants are buzzing with life. Combine that with interesting architecture, every possible color you can imagine on a side of a wall, and you will see why you would not run out of things to do and see at Haji Lane during your trip.
Absorb the Colors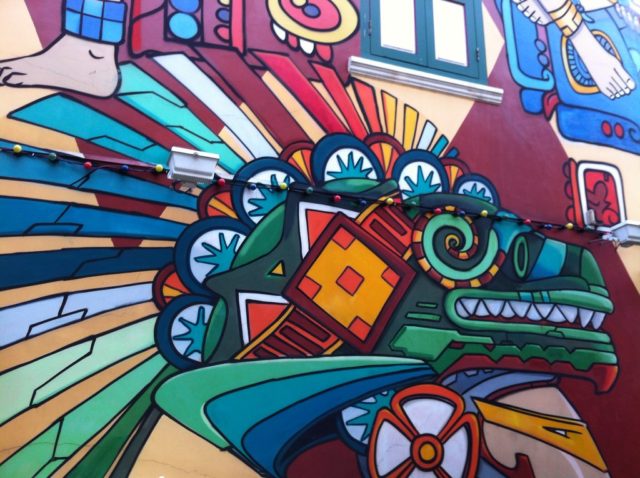 Graffiti, street art, and vibrant colors everywhere are one of the most prominent features, and the first thing you will notice when you arrive. It is a sort of decontamination from the business skyscrapers that surrounded you minutes before.
The narrow, walking-friendly street has art vendors during the day and artists have turned the buildings into their masterpieces as well. Even if you are just passing through, it's amazing to see the sometimes ultra-realistic and other times abstract paintings people have created on the buildings.
Shop for Unique Items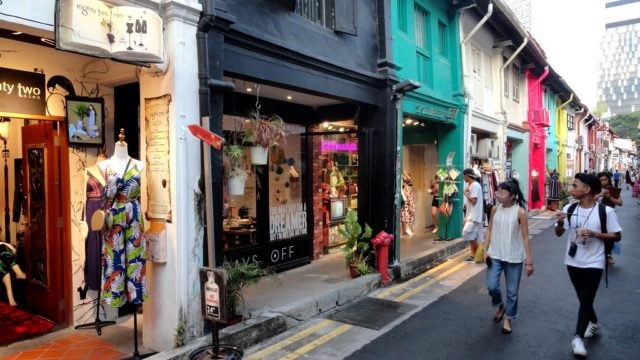 You will find a great number of shops with amazing art, souvenirs and clothes. There is no doubt that you will find something interesting, no matter if you are looking for a piece of clothing, jewelry, or an elephant. Among many other eclectic shops, there is one called Elephant Parade and they sell just statues of elephants. All sizes, colors, and the combinations of both…
You can buy toys at Luca and Vic, or cute decor and accessories  never imagined you needed at Spoilmarket. There are dozens of other craft shops that feature unique, quirky pieces you can take home as a piece of Haji Lane.
As we said, everything you never even knew existed–take a look at them here.
Food with Color and Personality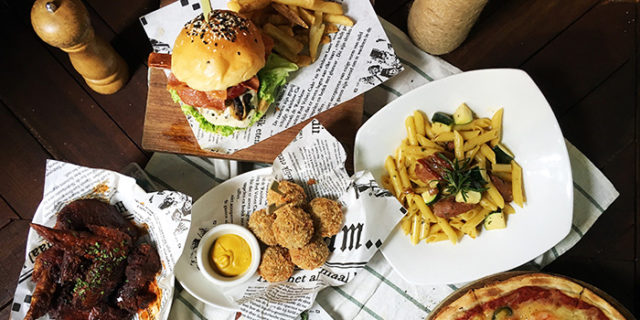 The restaurants and cafes at Haji Lane offer so many different kinds of food and drinks that you'll wish you booked an extra night in Singapore just to check check out more spots.
What can be recommended on a hot day are the Mood Coolers, from The Last Piece Cafe. This unique cafe is actually also a boutique store that creates its own tasty iced tea mixes. It can be crowded sometimes, so you may not find a place to sit down but they also do takeaways. So with a drink in your hand, you can get your nails done at their beauty salon, or go through excellent quality clothing that they sell in their boutique. It might be how some women imagine paradise. 
If the Mood Coolers aren't enough to beat the heat, you can always get ice cream from Moosh Softserve. Their specialty ice cream comes with a Nutella Brownie Cheesecake topping and if you want something more old-fashioned then the Ondeh Ondeh sweet, green, traditional pastry would be a great choice. 
There are also other options including burgers, Mexican food, and of course, plenty of beer and drinks to go around.
The Character of Haji Lane
It doesn't matter if you enter a cafe, restaurant, clothing or a souvenir shop, everyone is incredibly kind and a smile is part of the service. Haji Lane is known to be way more open and laidback compared to the other parts of Singapore so get used to some more outgoing personalities here! Singaporeans have a reputation for being a bit closed off but with live music, alcohol, and artists filling Haji Lane, you can't help but knock back some cold ones while chatting with strangers.
Live Music & Dancing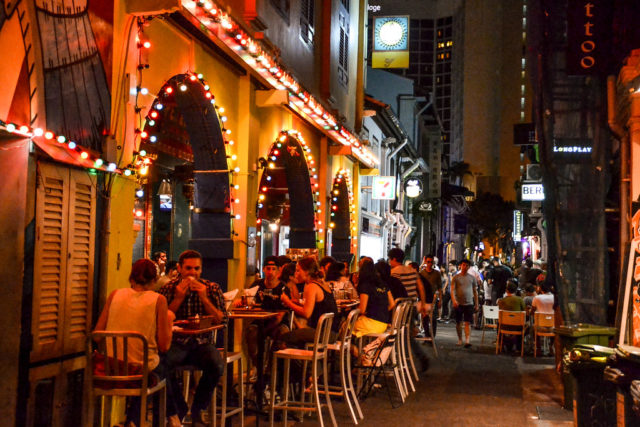 If you visit during the evening, you will be thrilled by the sound of live music coming from the numerous cafes. If you prefer to hear talented local performers play acoustics sets, covering Top 40s, pop classics, and soft rock numbers, Going Om is the place to be. If a funky jazz combination is more to your liking, the Funq bar offers great food and live music. One well-known establishment is the Blue Jaz Cafe that features live bands on the first floor and DJs on their second and third floors. There are typically entrance fees for the upper floors and a variety of music but the first floor is more like a lounge or bar.
Take Selfies
Last, but not least, take a selfie everywhere. With so many interesting backdrops, you will probably need some extra storage space on your smartphone.  And if you think you will annoy people around you, the people from the Selfie Coffee Café will disagree. They will even put your face on a cup of coffee. If you want an unforgettable latte, you can order a custom made coffee that has a photo of you printed on the top!
From the colorful graffiti to shops with unique clothing and decorations, all the way to the great food and drinks, everything at Haji Lane is set up so you can feel the real street vibe. Placed in the middle of the skyscraper ocean is an island full of colors and vibrancy. Don't miss Haji Lane which is known to have the most character in Singapore.