Hai Di Lao Hot Pot is an international chain of restaurants, established back in 1994 in China. And through 25 years of doing business, it managed to grow to over 400 restaurant locations in several countries. If you live in Singapore, or are just visiting, you are in luck because Hai Di Lao Hot Pot is definitely something you would not want to miss. Why? Singapore Trip Guide has the inside info on why Hai Di Lao is go great!
It's Okay to Hot Pot Alone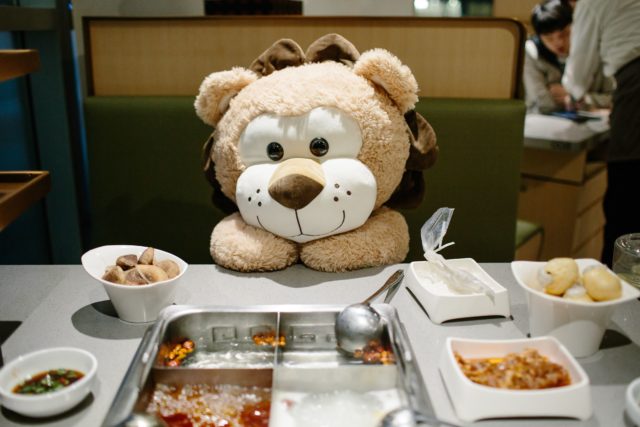 Sometimes it's hard to line up schedules with friends or family to grab hot pot but what do you do if you just need to satisfy your craving? Hai Di Lao has a solution for solo diners so that you will never eat alone. The restaurant provides a teddy bear for all the customers that are dining alone in order to keep them company. It's not just a small teddy that children keep as toys, this is a bear that's pretty much the size of a small human being so that it can sit upright across from you and share the experience of a delicious hot pot meal!
If you happen to go to a Hai Di Lao that ran out of teddy bears, the staff will ask if a cat would be fine as your meal companion instead!
The Fun of Waiting
At Hai Di Lao, there is usually a line and it's a long one. You may have to wait for a couple of hours for a table and the restaurant came up with creative ways to make the wait enjoyable. While you are waiting, you can treat yourself to snacks that are provided free of charge. Chips, popcorn, fruits, and even ice cream are at your disposal. The list of free thing doesn't really end there.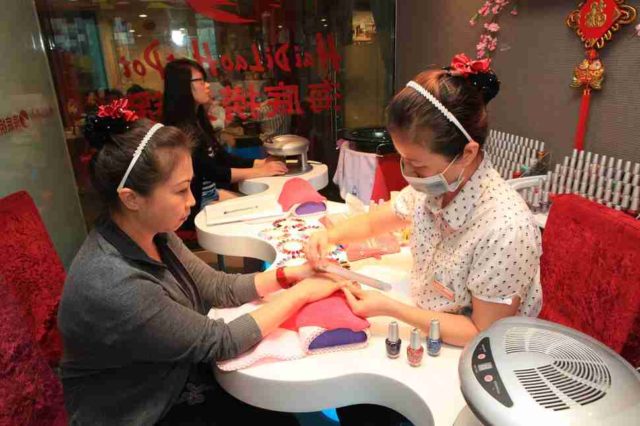 Women can get their nails done while they are waiting. Regular gel manicures are available everyday, and even nail-art and different designs are offered during special festivities.
Massage chairs are available at some restaurants for people to relax before their big meal!
Score Free Stuff During One of Their Events
During special events and holidays, you can win prizes from participating in giveaways and contests put on by Hai Di Lao. Items such as iPhone screen protectors, extra side dishes from the restaurant, desserts, and other toys are some things previously given away. Even if you don't win anything, it's fun to see other people participate.
Not only does Hai Di Lao try their best to keep you entertained during your wait, they also are super thoughtful with other items they have available. Their goal is customer care and they offer hair ties for women who want to eat without accidentally getting their hair dirty and zip lock bags for smart phones so they don't get splashed by hot pot soup. 
The amazing thing is that you will probably not even get around to ask for it because the employees will bring it to your table once they see that you need some help!
The young ones are not left without perks. There is a playground for them with toys and slides. For infants, you can even request a crib which is brought right next to your table.
All this attention can be overwhelming, so if you need some peace to discuss private matters or just want some quiet to enjoy the meal, there is a "do not disturb "sign.
Enjoy Great Food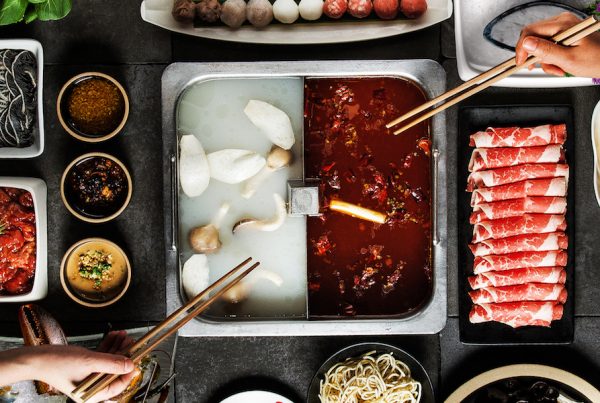 Hai Di Lao is a restaurant so obviously its main purpose is to prepare and serve food and all of these benefits and entertainment can draw attention from it. That would be a shame because the food is excellent! The ingredients are fresh and have to satisfy specific company standards. You can even watch the preparation process for the meat or fish on the tablet that is provided at each table. If you want a live version, a noodle chef will gladly come to perform a remarkable noodle dance where he or she stretches out a piece of dough into long pieces. 
Their signature dish is the Sichuan Spicy Hot Pot, but if you don't like spicy food, there is an enormous selection of dishes like Tomato Soup Hot Pot, Sichuan Pickled Hot Pot, Three Delicacy Hot Pot, and Local Laksa Hot Pot. Please note that the portions are large, so if you are a light eater, you would be better off ordering half a portion. Many people do that and it prevents food wastage and is easier on the pocket.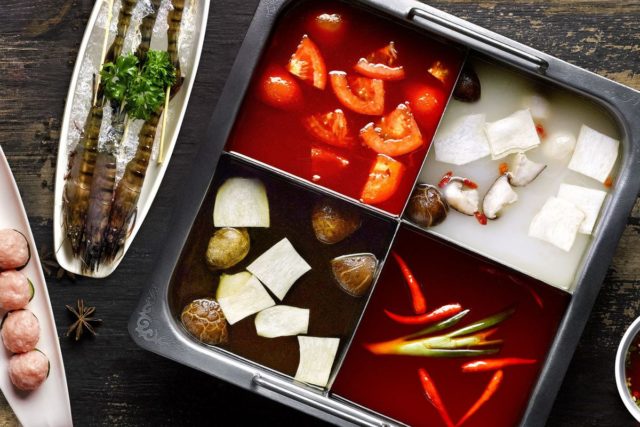 Hai Di Lao even offers delivery if you don't feel like waiting in line at one of their locations. There is a minimum order but the food and hot pot are delivered and then swiftly picked up after you're done so there's no clean up or waste of disposable dishware. 
Hopefully you get to experience the unique Hai Di Lao hot pot while you're in Singapore! Pro Tip: find a location inside a small so you don't feel overheated in the Singapore sun!