One district that is known to have more character than other parts of Singapore is Geylang. Geylang is located to the East of the Central Business District so in terms of proximity, it's really close to a lot of tourist destinations like Suntec City or Marina Bay Sands by metro or by taxi. So what is Geylang known for?
Geylang has a lot of Chinese influence and that's what it has to offer in terms of food. Geylang has plenty of small food centers located on the corners of blocks that stay open very late. Some of these food stalls are open 24 hours for people who are partying late or just want to chill whenever. The main Geylang road is lined with iconic two story shop houses that usually feature a retail storefront on the first floor and living quarters on the second floor.
Restaurants and Food Stalls to Try in Geylang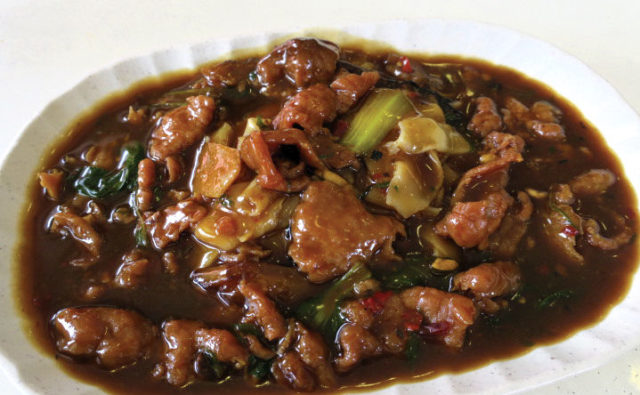 Geylang Lorong 9 Beef Kway Teow
Beef Kway Teow is a peppery, saucy, dish that has tender beef slices mixed in with slimy rice noodles. It's definitely a very texturally interesting combination and many locals love it. If you're in the mood for some, check it out on Geylang Lorong 9. A dish starts at just S$ 6.
Penang Seafood Restaurant
Penang is a city in Malaysia known for its amazing food offerings. If you're not planning on stopping by this city to the north of Singapore, get a taste of Penang food in Geylang instead! This is a popular place among locals and gets pretty crowded during evenings. Try out dishes like salted egg prawn and claypot pig trotters.
Geylang Serai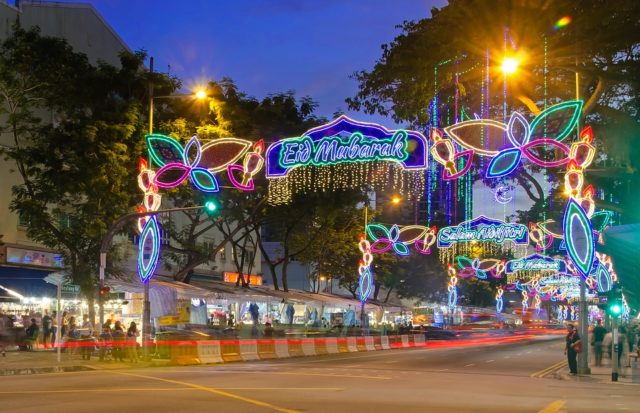 Geylang Serai is a neighborhood within the greater Geylang area that was the first settlement of Malays within Singapore. There are markets that sell halal goods and if you're lucky enough to come to Singapore during Ramadan, Geylang Serai has a huge nightly open market with clothing and textiles for sale as well as plenty of yummy food. Be warned, due to the month of fasting and celebrations, the crowd is huge and it's sweltering hot underneath the tent structures of the Ramadan Market but you'll definitely see some unique food items like satay meatballs in a bucket or fried foods on a stick.
Geylang at Night
 The Singaporean government turns a blind eye towards Geylang because it's known to be somewhat of a red light district. Not all of the area has these types of workers for hire wandering around but if you go towards the lower-numbered Geyland roads, you may see women soliciting men in cars when it's nearing evening hours. Perhaps this is somewhat of an intriguing sight to see during your trip to Singapore but always good to know what you may be coming across!
With all the restaurants and other stores that may have been in the Geylang for at least a full generation, the conditions of the streets may not be as nice as more modernized parts of Singapore. You can find food stalls pouring dirty water into the street and produce kept outside. With the humidity and heat of Singapore, it's not the most pleasant smell to get a whiff of. However, may local Singaporeans swear Geylang is where you can get the best and cheapest food on the island. Whether it's Sichuan numbing, spicy hot pot called Mala or Singaporean Chinese food like char kwey teow, you can find it being served along Geylang.