Just a few minutes away from Orchard Road lies the quiet Dempsey Hill neighborhood. If you're looking for somewhere to eat with the quiet tranquility of lush greenery, this is the place to go. 
History
Dempsey Hill's history dates back to the mid-1800s where it was developed into a nutmeg plantation with at least 1,600 trees. Known as Mount Harriet in those days, the area was so vast that it covered the area that is now the Singapore Botanic Gardens. 
Mount Harriet's demise as a nutmeg plantation came in 1857, no thanks to the nutmeg-beetle infestation. In the 1860s, the hill was repurposed into a military barracks for British troops that were sent over by the crown to protect its interests in the colonies. The original barracks used to have thatched roofs and an abundance of windows and doors to provide ventilation. 
Red French tiles replaced the thatched-roof barracks in 1911, though the huge windows and doors remained. Most of these structures are still standing to this day and are now under the protection of Singapore's conservation guidelines. Dempsey Hill may not be as popular to tourists as its neighboring areas, such as Orchard Road or Sentosa Island. But a visit to this former nutmeg plantation will surely be a welcome addition to your Singapore tour itinerary. 
Upbeat Restaurants and Shops with an Old-world Vibe
Dempsey Hill is one of the areas in Singapore that has managed to retain a lot of its old-world charm. The old military barracks have been converted into restaurants, antique stores, art galleries, and other shops. 
If you're up for a food trip, here are a few of the restaurants that you absolutely must check out in Dempsey Hill:
COMO Dempsey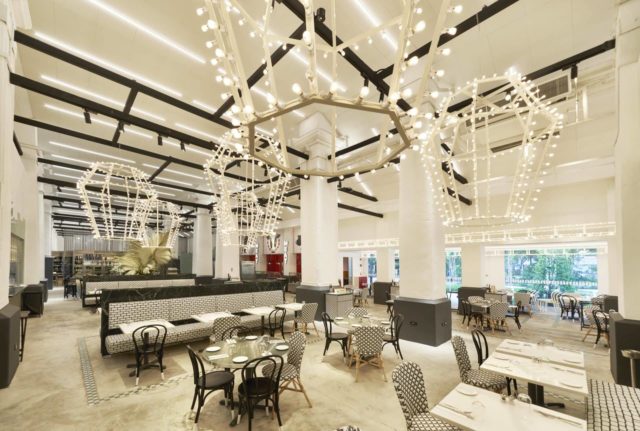 COMO is on of the leading lifestyle destinations in Singapore. It houses 4 different restaurants and a bar under one roof. Each restaurant has its own theme and specialty. Bright, sleek, and clean interiors mark each of the unique restaurants at COMO. 
Picking a place to dine at could be difficult. But if you absolutely must pick only one restaurant at COMO, then go ahead and dine at Candlenut. It's the world's first Peranakan restaurant that got the coveted Michelin star award. Peranakan is a local term that indicates something is of native Singaporean descent, mostly with Malay, Chinese and Indonesian influences. 
True to its branding, Candlelight serves dishes with an authentic Peranakan heritage tweaked to entice choosy palettes. The dishes are prepared in traditional ways, with a lot of grinding and pounding in a mortar and pestle as this is the only way that you can truly bring out the heady taste and aroma of Asian herbs and spices. 
Blu Kouzina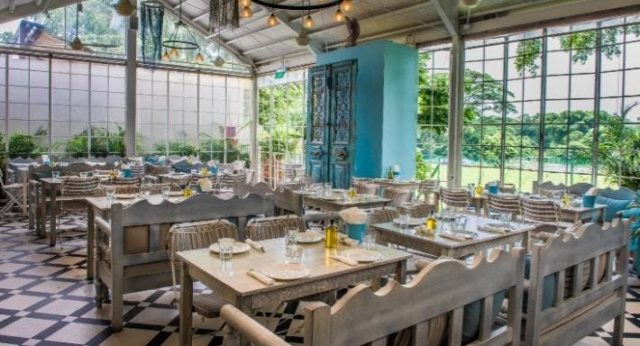 Blu Kouzina recently relocated to Dempsey Hill. Its new establishment combines traditional Singaporean Chinese architectural design with a flight of whimsical Greek elements. This has always been a favorite among Singaporeans who are into Greek cuisine. Dishes are cooked in olive oil made from freshly-picked olives at the restaurant's own family farm. 
Try out some of the crowd favorites at Blu Kouzina, such as:
Hummus

Tzatziki

Greek salad

Grilled octopus

Grilled calamari

Lamb chops
Blu Kouzina regularly updates its menu selection so might be pleasantly surprised at what awaits you there. 
The Bottomline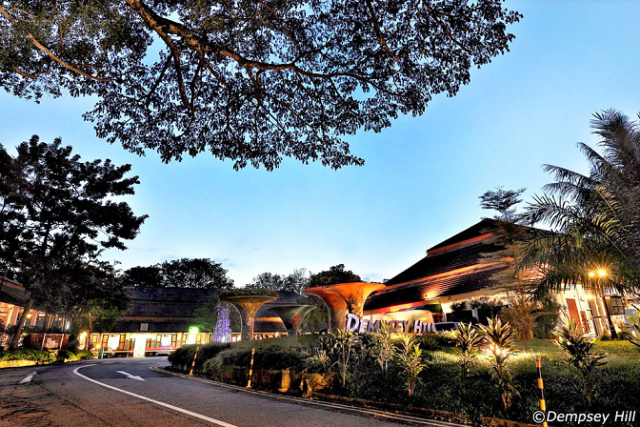 Dempsey Hill is a large area covering several acres. This means you'd find more establishments when you go there than what's already listed here. Despite its reputation as an upscale lifestyle destination, there's really no need to worry about following a dress code. Singapore is a city with a relaxed, playful vibe so you'd definitely be welcome anywhere regardless of what you're wearing. 
One thing that makes the area quite popular is because it's covered with lush greenery. Some of the trees probably date back to colonial times!
To visit Dempsey Hill, you can take the bus routes 105 and 106. You can also go there via the Circle Line or the East West Line of the underground tube. You can also take a cab or GrabTaxi, though this would be more costly.
An easier way to get to Dempsey Hill is to take the shuttle service. There are several pick-up points within the city limits. You can take the earliest shuttle service that leaves at 8:45 AM from the car park right next to Wheelock Place. The last shuttle service leaves the city from the Holland Village MRT at 8:05 PM. You can take the same shuttle service back to the city center after a day spent exploring the wonders of Dempsey Hill.