Singapore is an amazing city, and it is hard to decide which part of getting to know it is the best. Whether it is walking around the streets, or viewing the amazing skyline, Singapore is an impressive sight. If you want to experience a view of the city while enjoying an excellent meal or drink, there is no better place to do it than at CÈ LA VI atop Marina Bay Sands. It is located on the top of the massive three-tower structure, and you can get there by taking an elevator at Hotel Tower 3.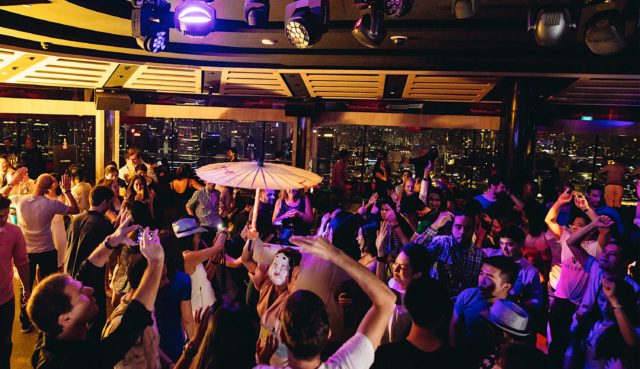 The whole complex is divided into two segments: a restaurant and sky bar on one side with a view towards the ocean, and the sky deck and club lounge on the other side where you can spot the iconic skyline. A comfortable, high-end interior setting continues into the terrace. The umbrellas provide ample shade, which is especially important in a hot Singapore day. Dining tables, lounge sofas, and bar stools right next to the glass railing give an excellent view of the city.
When to Visit CÈ LA VI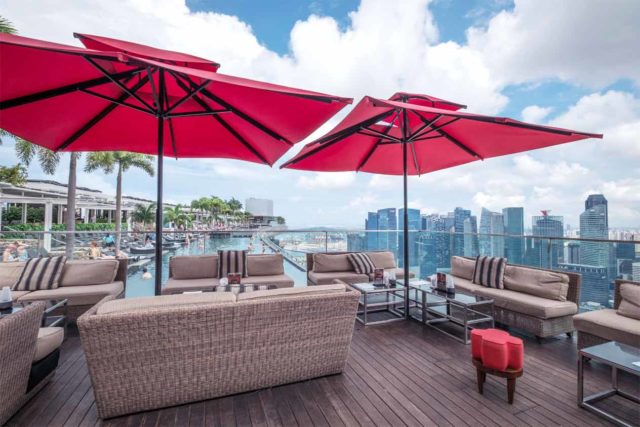 It is hard to say whether you should visit CÈ LA VI at day or night. The amazing daytime skyline at night is even more impressive when a beautiful light and water show called Spectra begins at the base of Marina Bay Sands.
Later in the night, the real party begins in the Club Lounge with live DJs and a hyped atmosphere that help people keep dancing to the early morning light.
Dining at CÈ LA VI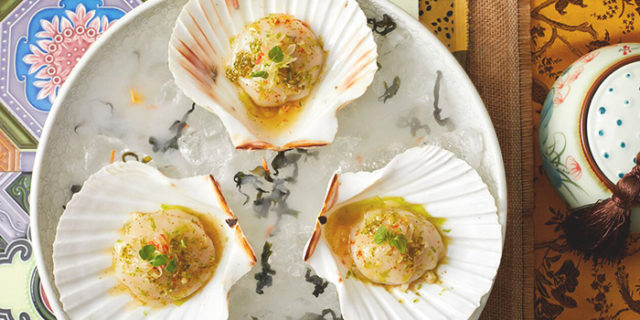 The unique view and exclusive night-time atmosphere may draw attention away from the food, but that would be a shame because it is excellent, both in quality and variety. Also, you wouldn't want this once in a lifetime view to be ruined with a bad meal or drink.
The CÈ LA VI restaurant is famous for its Modern Asian cuisine. The menu features dishes such as Pan-Roasted Kuhlbarra Barramundi with Chili Oil, while desserts include Orange Citrus & White Chocolate Gateaux. As you can tell, fancy dishes are featured, so get ready to break out your wallet!
Although the website suggests that reservations are not required, they are highly recommended.
The Skybar and Club Lounge also offer some various bar bites, but the main attractions here are the signature cocktails, like a 'Once Upon a Thai' or the 'Botanic 57'.
What to Wear to CÈ LA VI
CÈ LA VI is meant to be for special occasions, so there is a dress code. No shorts, Bermudas, tank tops, sleeveless shirts, and flip-flops are allowed. Gentlemen are required to be in full-length trousers from 10 pm onward.
If you want to visit, you must purchase an S$22 entry voucher (redeemable towards food and beverage purchases). Hotel guests and patrons with reservations can visit free of charge. For children under 12 years old free, entry applies also.
There are exceptions to this charge, depending on the day, or holidays, so you should consult their website. Sitting at the Sky Bar is a much better option than visiting an observatory tower, where a charge for going in will cost you $30, and there are no chairs, umbrellas, or food! Some of the signature dishes can be expensive, but there are a lot of dishes and drinks with quite reasonable prices, both from set menus or á la carte. One thing is certain, no matter what the cost is, the experience will be a memorable one.