You'll either love it or hate it. Judging by the crowds that gather here each day, most people love it.
If you are looking for souvenirs, nice and reasonably priced clothes, or to eat good and low-cost local food, while improving your haggling and bargaining skills, there may be better places than the Bugis Street Market Singapore, but that is highly unlikely. Colorful and interesting, always crowded, it is a part of Singapore that appeals to many tourists and locals.
Even if you are not looking for shopping, it is worth visiting. At the entrance, you will probably encounter many people that had the same idea. They are loaded with bags, and they are all saying that they were not planning on buying anything. If nothing, you will learn to say that in many different languages.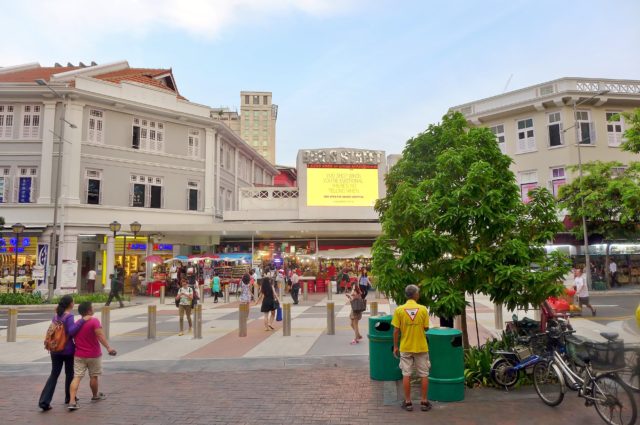 The Bugis Street Market is located in the central part of the city, with plenty of hotels in walkable distance. It is well connected by bus lanes and the MRT, and you can also easily grab a taxi here.
Right next to it there are some more shopping malls, Bugis+, a ten story shopping mall, younger crowd oriented Bugis Junction, and Bras Basah Complex for those that love books, old school decorations, and art.
According to the latest studies, the chances of you finding nothing you like in this part of Singapore are next to nothing.
What to Buy at Bugis Street Market
When you walk off the Bus or MRT, you can just follow the crowd, and they will lead you to the large red entrance. The market is three stories high and has around 800 shops. And in those shops you can find, well… everything. Titbits and knickknacks, souvenirs, chocolates, fake watches, clothes, bags, office wear, swimwear, sportswear, shoes, wallets, lingerie, traditional art, books, accessories… they are all affordable and you might find a gem!
After a couple of hours of walking and viewing the items in the shops, you will probably believe that they even have Moon Stones somewhere behind the counter.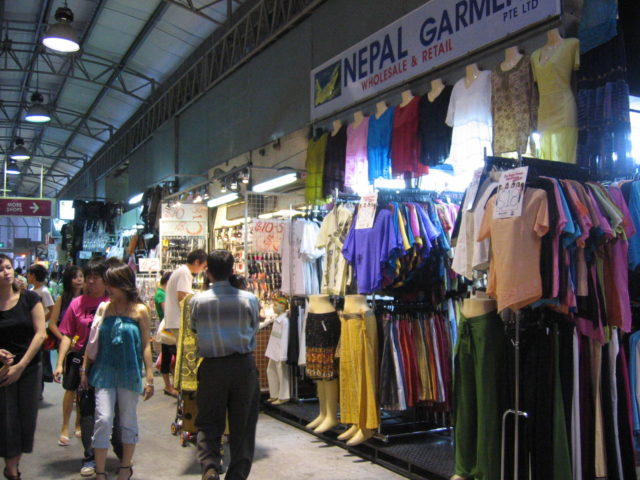 The mantra at Bugis Street Market is probably- something for everyone and their cousin.
You can get your hair and nails done, even get a tattoo.
As we said, the market has three levels. Most tourists hang out on the first level, and the prices are a little bit higher than the second and the third level, where mostly locals buy.
The prices are low, and that kind of reflects on the quality, but this is not a rule, so you shouldn't give up on your search too early. You can find sunglasses or a hat for S$5, T-shirt for S$10, or a pair of jeans for S$15. Most of the visitors agree that the merchandise is to some extent like the ones in the Chinatown, but with a better selection, and the prices are about the same.
You shouldn't buy everything at the first store you go in to. Look around first, the chances are that you will find the same thing cheaper when you walk the rows a little bit further. About the rows– they can be confusing because they all look the same when you visit for the first time.
In these rows, you will find inexpensive cafes and restaurants, where a whole meal will cost you $3.50 or you can get squeezed juice for $2. Local specialties are Laksa and chicken and rice. If you don't know which restaurant to choose, just check where the locals eat.
If you don't like inexpensive, sometimes cheap-looking products, big crowds or bargaining, then maybe you should skip this market. If you are planning to take young small kids with you, they will not be bored, there are a lot of shops with things designed for them, but the recommendation would be to avoid the peak hours on weekends and when people get off from work.
The Bugis Street Market is opened every day from 11 am to 10 pm, but some of the stores open a little bit later and stay opened longer on weekends.
It would be a shame to miss this experience because whether Bugis Street seem appealing to you or not, it is a part of Singapore, and it will help you get the feel of what a city is like.