Singapore is known for its crazy rich Asian lifestyle. You may have seen a movie or two about it. While staying in Singapore can be quite affordable, you can also stay at some of the most luxurious hotels if you decide to live a little. If you are looking for the hottest spots to be seen, lounges to relax with your entourage, or romantic getaways with your family, here are the best hotels in Singapore.
Marina Bay Sands Hotel
Singapore is a city that barely sleeps. However, we understand that you need to catch some sleep to enjoy your life to the fullest. Well, you are in luck. If you are looking to maximize your time and party while you are on vacation, Marina Bay Sands hotel is the best choice for you. Located a few steps away from the harbor, it boasts of some of the most exclusive and ritziest restaurants and shops to attract visitors. Most likely, when you search the term "Singapore" or get souvenirs, the iconic hotel will appear. The resort is state-of-the-art with the luxury lounges, outdoor pool, tropical gardens, and offers an iconic array of shopping stores. The interior of the hotel itself is striking too. It is home to the world's biggest chandelier hovering over you as you check in.
As you can guess from the name, the hotel also has a casino, one of the few in the country. The resort makes use of the Sands Rewards Programme to attract visitors. One gets Sand dollars for every spending at the resort. These can later be redeemed for dining, shopping, hotel stays. If you get tired of trying out your luck at the casino, you can relax at the Sands Sky Park taking in the panoramic view of the entire island.
Restaurants
If you are staying at the Marina Bay Sands hotel, you never have to leave the premise to satisfy all your needs. In addition to entertainment and shopping encompassed in the building, there are over 60 restaurants inside the building. Here are some of our favorite dishes.
Get a delicious chicken sandwich and waffles at the Yardbird Southern Table and Bar. You can top off your meal with fun-fetti pancakes so that you can be properly fueled up for your day.

A world-renowned chef and restaurant owner, Wolfgang Puck, has a grill house for all your meat lovers out there. You will be able to try the best cuts of beef in Southeast Asia. You can choose from ribeye, Japanese wagyu, filet and more.

If you want authentic southeast Asian cuisine, however, make a stop at the Singapore Food Treats. Here you will be able to enjoy chili fried swordfish, Hokkaido scallop bouillabaisse soup, Kotang Keah Kee fresh eggs, and perfectly seasoned oysters.
Shangri-La Hotel
This is a tropical garden with in-house spas, fitness centers, tennis court, saunas to name a few. Shangri-La Hotel is conveniently located on the world famous Orchard road. This would be an excellent option for those who plan on going shopping in Singapore as you will be able to make pit stops and recharge at the hotel. While the hotel is located on the busiest street of Singapore, it has the feel of an exclusive residence. Here it's all about taste and discretion. You can hold meetings at the Shangri-La Lobby room or the Island Ballroom.
With the excellent service, the sauna, the spas, and the deluxe suits, you could arrive at the hotel for a romantic break and never leave the room.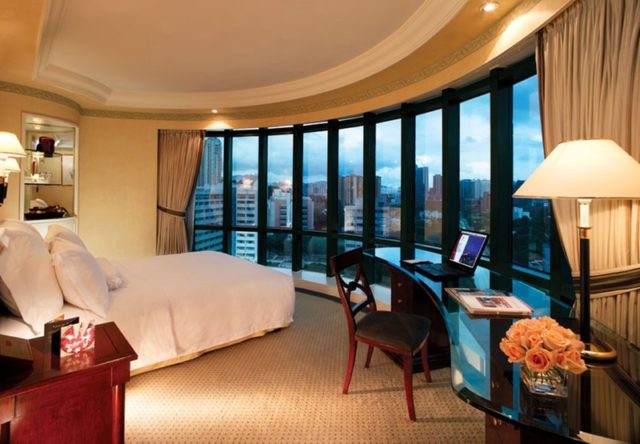 Restaurants
The summit room is pretty and delightful for breakfast. You can enjoy varieties of the buffet, Indian curries, omelets, cakes and more. If you are in the mood for some meat, the Origin Grill is also an excellent place to dine.
One of the must try when staying at the Shangri-La hotel is the restaurant by chef Heidi Flanagan. This Australian chef inspired by Singapore flavor and culture crafts various cuisine such as snow-edged wagyu beef, Hokkaido scallops, jumbo prawns, lamb rack and more.
Crowne Plaza Changi Airport
Singapore is commonly considered the business hub of Southeast Asia. This means the island is home to Asia headquarters for international corporations and draws in business travelers from all over the world. If you are looking to stay close to the airport so that you can get to your next destination, Crowne Plaza Changi Airport is it.
Located close to Terminal 3 at Changi airport, this hotel is handy for those who are on the go or want to stay close to the airport. While the airport offers amenities and transfer hotels, we guarantee that Crowne Plaza is the best one. Unlike transfer hotels, Crowne Plaza Hotel at Changi Airport is not inside the terminal. However, you do not need to worry. There're professionals to help you with the customs clearance and check-ins. Whether you are flying out early in the morning or arrived in Singapore late, you can stay at the hotel before you move onto your next destination.
Catering to tired travelers, the hotel ambiance is serene and relaxing. Staying here overnight will help you unwind from long journeys. You can even cap off your day at the pool or just settle in your room enjoying mega-screen entertainment over some cocktails and excellent room service.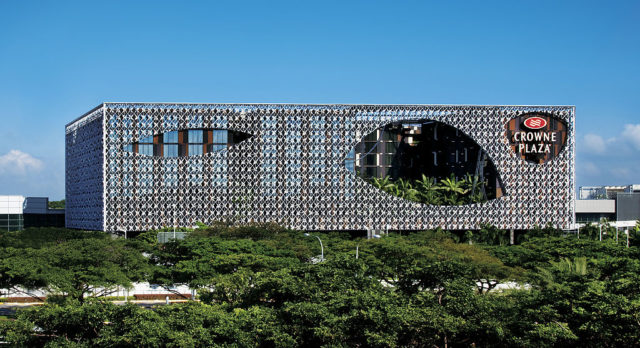 Restaurants
The hotel offers a free buffet as a way to attract customers. Meals and drinks can be taken from Executive Club Lounge or Azur Restaurant, which serve varieties of western and eastern cuisines such as chicken dumplings, Penang-style cooked tea egg, roasted turkey bacon, sautéed mushrooms and more.
Raffles Hotel Singapore
Immerse yourself in the culture, the cuisine, or just the pool at this colonial-style hotel that has been designated a national monument. The 103 suites offer a reclusive place to spend your vacation soaking in the warmth and culture of Singaporeans. The hotel creates an old-world feel by combining the best elements of a bush lodge and a city hotel. Indeed, the lush tropical gardens, the elegant furniture, the colonial-style architecture and its long history with the Singapore Sling create the ambiance of timeless luxury in the bustling city.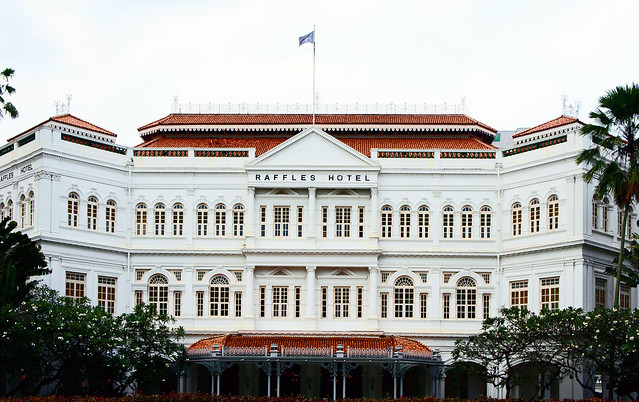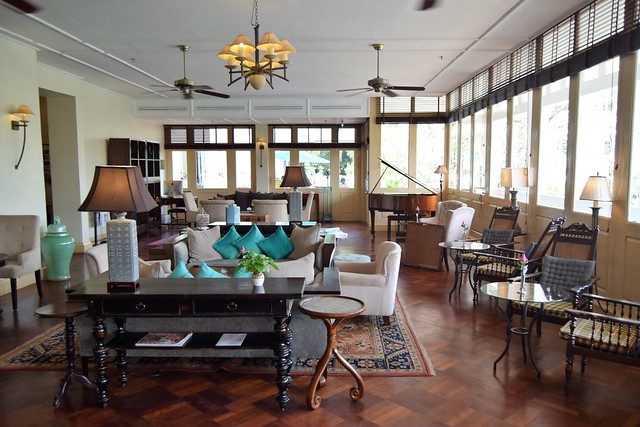 Restaurants
There are various continental dishes in the restaurants here. Here are some of our favorite dishes from restaurants at the Raffles Hotel.
Try delicious Indian cuisine such as chicken makhanwala, dal makhani, peshawari naans at Tiffin Room café.

Chur Sui steamed bun with pork in the inside or fried fish coated in angel hair pasta and Chinese Broccoli at Royal China restaurant.

The Raffles Grill offers a variety of seafoods such as Freshly Shucked Oysters, Alaskan King Crab, salmon served with Sarasin pancake with caviar.
Equarius Hotel at Resorts World Sentosa
If you are looking for hottest spots to be seen or want to experience Singapore's bustling nightlife, the Resorts World Sentosa is the place for you. Lucky for you, Equarius Hotel is located inside the resort. Nestled inside a lush tropical garden with plenty of amenities such as spa, restaurants and comfortable suites, it's a perfect getaway for both couples and families.
The suites have neutral décor, spacious with mega-screen for entertainment. The beds are lined with beautiful Egyptian cotton sheets. You can Visit the ESPA spa and receive skin care consultation and choose from a body massage, prescription facial, manicure or lavender treatment or enjoy soaking in the hot sauna and let the water help you unwind and detoxify.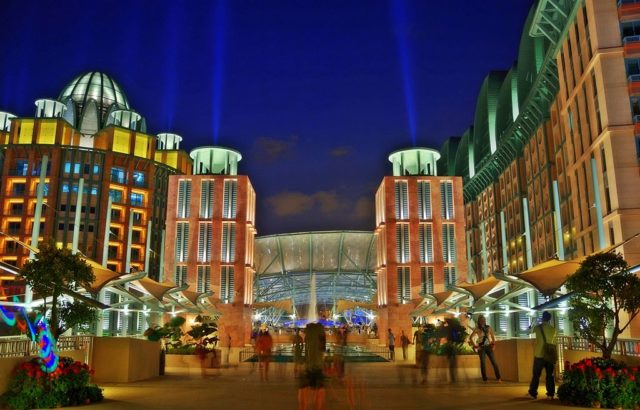 Restaurants
Equarius's food scene centers around the Forest Restaurant Café, the Tangerine, and the Ocean Restaurant.
Restaurants cater to almost every occasion. If you are meeting for light snacks and teas, you can visit the Tangerine for high noon tea. If you are looking for more a meal, the Ocean Restaurant offers a wide array of seafood dishes like the Hokkaido soup.
If you want to munch down on meat, you can get an Australian steak fried in onion, pepper, garlic. We recommend that you top up your steak with some deep fried shrimps that are coated in salted egg mayonnaise and wasabi mango.